Electoral Bulletins of the European Union
Parliamentary election in Bulgaria, 2 October 2022
Issue #3
Scroll
Issue 3, March 2023
Elections in Europe: 2022
On 2 October 2022, Bulgaria held its fourth parliamentary vote within 18 months, thus making the notorious record of being the established democracy with most parliamentary elections within the shortest period of time. These elections had the lowest turnout since the democratization of Bulgaria in 1990: only 39.4% decided to go to the polls. The results of the elections perpetuated the political impasse, lasting in the last couple of years, with little prospects for a viable government coalition. Consequentially, the country is still governed by a caretaker government, installed directly by the Bulgarian president, Rumen Radev.
The context
The elections of October 2022 were the third snap vote, following the regular one in April 2021 and the early elections in July and November 2021. The November 2021 elections produced a four-party coalition government between the liberal centrist We Continue the Change (PP, no European affiliation), the centre-left Bulgarian Socialist Party (BSP, S&D), the populist There is Such a People (ITN, no EU affiliation), and the liberal right alliance, Democratic Bulgaria (DB, EPP/Greens-EFA). The main opposition came from the centre-right Citizens for European Development of Bulgaria (GERB, EPP), the liberal centrist Movement for Rights and Freedoms (DPS, Renew Europe), representing the sizable Turkish minority of the country, as well as the populist radical right Revival (Vazrazhdane, no European affiliation).
The formation of this government comes in the aftermath of months-long mass anti-government protests in 2020 and the combined and loosely coordinated efforts of reform-oriented and opposition parties to halt and potentially reverse the deteriorating state of democracy in Bulgaria following the 12 years of political dominance by GERB and its leader, Boyko Borisov. Led by prime minister Kiril Petkov and finance minister Asen Vasilev (both PP), the government embarked on an ambitious program of cracking down corruption, increased government investment in social welfare and low taxes, as well as a more pronounced pro-European and pro-Atlantic stance compared the previous GERB-led governments. These positions quickly faced internal and external backlash. The corruption crackdown faced the fierce opposition by GERB and DPS, particularly following the arrest of Boyko Borisov in March 2022. The arrest itself seemed like an important milestone in the government's anti-corruption efforts and democratic restoration, as the government claimed to have provided the state prosecution with sufficient evidence of Borisov's corrupt practices. Nevertheless, the subsequent refusal of the state prosecution to press charges, leading to Borisov's release, turned this move into a government debacle, as it seemed that the government had used this move to boost its public credentials midst its indecisiveness on other political matters (elaborated in subsequent paragraphs here). The government attempt to pivot Borisov's release as evidence of the continued control of the prosecution by the ancien regime seemed to have further exacerbated this perception. After his release Borisov claimed the government is using the anti-corruption drive to repress the political opposition (Mitov, 2022), whereas the government pointed out that the crackdown affected mainly businesses, affiliated to GERB and DPS (news.bg, 2022).
Internally, the four parties found it increasingly difficult to find a common political ground. For example, BSP was reluctant to provide military aid to Ukraine, leading the government to formulate an ambiguous policy of "military-humanitarian assistance" to Ukraine, which allowed BSP to argue that it prevented an outright Bulgarian involvement in the war in Ukraine, while it also kept the coalition stable. Yet, it was the rift between PP and ITN that caused the end of the government coalition. Following months of minor policy disagreements, the denied request of the ITN-affiliated deputy PM and regional minister, Grozdan Karadzhov, for additional funding for infrastructure projects, coupled with the ITN disagreement with Petkov's policy of supporting the French proposal on the roadmap for North Macedonia's accession to the EU led the ITN party leader, Slavi Trifonov, to withdraw his party from the coalition on 8 June 2022.
The result of this withdrawal has been twofold. First, ITN split as several of its MPs and ministers left the party and decided to continue supporting the government. Second, the government coalition has found it increasingly difficult to even to whip enough MPs to hold parliamentary sessions. A week after ITN's withdrawal from the coalition a parliamentary hearing of foreign minister, Teodora Genchovska, on the Bulgarian relations with North Macedonia turned into chaos, leading to the dismissal of the parliamentary speaker, Nikola Minchev by GERB, DPS, Vazrazdhane and some of the ITN MPs. The same alliance passed a vote of no confidence on 22 June on grounds of "the government's failure in the financial-economic policy", thus ending Petkov's government.
The fall of Petkov's government came as a result also of several external factors. First and foremost, the government entered into an open conflict with the Bulgarian president Rumen Radev over disagreements on the Bulgarian position on the war in Ukraine: while the government, particularly PP and DB, aimed for a more outspoken support for Ukraine, Radev advocated a more toned-down position. Behind these tensions one could also see an attempt by Petkov and Vasilev to emancipate themselves from the president: both of them made their initial political capital as ministers in previous caretaker governments and enjoyed substantial support from Radev supporters in November 2021, thus being seen as president's men in parliament. Petkov and Vasilev removed some key figures, installed by Radev in the defence and national security area, the pinnacle of which was the removal of Stefan Radev, a former caretaker PM and initial defence minister in the PP-led government. Thus, Petkov and Vasilev lost a significant institutional and social source of support. The result of this rift was that the caretaker government that was installed by Radev, following the call for early election, attempted to reverse some of the coalition's policies, particularly those related to gas deliveries for the country.
Second, the unilateral termination of gas deliveries by Russia to Bulgaria in early April has prompted the PP-led government to seek alternative sources for gas deliveries. While such sources were found through deliveries of Azeri gas, as well as through a new LNG gas interconnector with Greece, the government faced criticisms of the allegedly higher prices for these deliveries and in favouring PP-affiliated companies as intermediaries for the gas deliveries. Radev's subsequent caretaker government indeed attempted to enter talks with Gazprom to reinstate gas deliveries for Bulgaria, but current efforts to renegotiate the contract terms remain unsuccessful. Third, the position of the PP-led government in favour of removing the Bulgarian veto on the North Macedonian accession to the EU placed led to significant public criticism even after the approval of the French proposal shortly after ITN's withdrawal from the coalition and the vote of no confidence. Finally, Petkov and Vasilev and their party faced a noticeably hostile media landscape with regular accusations of their personal lifestyle, as well as of the role the government chief of staff, Lena Borislavova, in forming government policy.
The campaign
Following the failure of the parliamentary-represented parties to form a new government, on 1 August the Bulgarian president, Rumen Radev, called new elections and installed a caretaker government, led by Galab Donev. The campaign started officially on 2 September and had little to offer, as the parties focused mainly on mobilising their core electorate. The campaign revolved around four key matters. First, PP and DB were in a disagreement on whether to enter as an electoral alliance. Whereas DB were open to such a possibility, PP quickly rejected the idea, because they are "not right-wing" (segabg.com 2022). As both parties aimed to mobilise similar urban, high-educated, secured-salaried electorate, the potential effects of this decision could be the split of their vote. On the other hand, however, the outspoken support for Ukraine by both parties, their staunch rejection to enter into any agreement with GERB and DPS, as well as their strong emphasis of their anti-corruption record in government led to the radicalisation of the urban liberal and right-wing electorate, heightening the prospects of a major electoral mobilisation.
Second, GERB amplified its efforts to exit their political isolation, which they entered since the April 2021 elections. The party emphasised its pro-European image, criticising the government for its rather undecisive stance on Ukraine, as well as its support for the speedy Bulgarian accession into the Eurozone (Trud 2022). In doing so, GERB set the stage for potential coalition talks with PP and DB and depicted itself as a responsible coalition partner, while presenting PP and DB as unreasonable in their refusal to enter into such an agreement. Third, the populist radical right Vazrazhdane increased its popularity. The party doubled its support with each election in 2021, entering parliament in November 2021 on a strong anti-lockdown restrictions and vaccination sceptical message. The war in Ukraine allowed the party to expand on its appeal by staging several allegedly anti-war rallies with strong pro-Russian messages and symbolics. Vazrazhdane also speaks openly about a Bulgarian exit from the EU and NATO, thus placing itself as a clear alternative to both the more established parties, such as GERB, DPS and BSP, as well as the reform-oriented PP, DB and ITN, thus attracting nationalist and protest voters.
Fourth, an important question was whether ITN and the newly formed nationalist conservative Bulgarian Rise (BV, no EU affiliation) around Stefan Yanev, former caretaker PM with close affiliation to Radev, would manage to pass the threshold. Early during the campaign polling data gave BV a slight edge over ITN, but ITN managed to buck the trend by the election date, following a reasonably active campaign and relying on the party-affiliated 7/8 TV channel to spread its message. Which of the two parties would enter was an important question, as they could hold the key to a potential future government coalition. Nevertheless, while ITN declared their openness to enter conversations with PP if Petkov and Vasilev would not be part of the new government, BV refrained from taking a clear stance. Given Yanev's close affiliation to Radev, the entry of his party would enable the Bulgarian president to directly influence the parliamentary work.
The electoral turnout was record low for the democratic history of Bulgaria since 1990, as it seems that political apathy and disillusionment with the continued quarrels between the parties turned people away from voting. The results themselves represented relatively minor changes for the main parties. GERB recovered slightly from their electoral losses in the July and November 2021 elections, but its result of 25.3% remains lower than its weak performance in April 2021. The party restored its top positions in all its electoral strongholds apart from two of the capital Sofia constituencies, where PP remained the main party. This suggests that while the party maintains a stable level of support, its attempt to detoxify its legacy of its decade-long period in government remains largely unsuccessful.
The period in government took its toll on PP as well, as the party lost about 5.6 percentage points from its stellar result in November 2021, achieving a 20.2%. According to exit poll data from Gallup International the party lost almost half of its November 2021 voters mainly to Vazrazhdane, BV and DB, while it managed to attract some past ITN and DB voters, as well as non-voters (Gallup International 2022). The third spot remained for DPS who raised its result marginally, benefiting from its strongholds in places with sizable Turkish and/or Roma communities, as well as the diaspora vote. Vazrazhdane again doubled its performance, but their result of 10.2% was slightly below polling data. This suggests that the party still struggles to establish firm support, although it drew some noticeable parts of past PP and ITN voters (Gallup International, 2022), mainly in Sofia and major regional centres, where it outperformed BSP.
BSP continued its freefall and with 9.3% it got its worst electoral result since 1927. The party managed to get some support from previous PP voters, but overall, it relied on its declining core support of mainly senior voters (Gallup International 2022). The party still struggles to develop an attractive profile, as it deepened its conservative and pro-Russian policy positions. This, however, has not improved its stance: rife with internal divisions, BSP lost significant portions of the elderly vote, which it traditionally dominates, while its muddled pro-Russian positions were no match to the more outspoken narrative of Vazrazdhane, which mixed anti-war with pro-Russian affirmations and nods. DB, like BSP and DPS, have not changed substantially its result from November 2021, attracting 7.5% of the vote. The failed attempt for an electoral alliance with PP, together with the internal tensions between and within the parties of the DB alliance over their cooperation with BSP in government demoralised its electorate and drove some of it to vote for PP. Geographically, DB remained strong in larger cities, particularly Sofia, where it came a third after PP and GERB (Gallup International 2022).
The elections saw the exit of ITN from parliament and the entry of BV as a new political actor. ITN lost significant support to PP and Vazrazhdane (Gallup International 2022), leaving it with about 3.8% (marginally less than the 4% threshold). The party were already on a downward spiral with the November 2021 elections, as it squandered almost all of its previous protest appeal. This comes as a no surprise, as ITN and its leader Slavi Trifonov made several major mistakes in the past year, not the least their reluctance to form a coalition government following the July 2021 vote. The party split following its exit from the coalition further limited its mobilisation abilities. On its place came BV, which managed to attract the main bulk of Rumen Radev's electorate (Gallup International 2022), who previously voted from PP, BSP, and the centre-left populist alliance Stand Up! We are coming! (ISNI, no EU affiliation). BV campaigned mainly on a platform of a moderate criticism of the government record, while its main image came from its criticism of both sides in the war in Ukraine. Reports of clientelism related with the party, such as workers in the companies owned by one of BV's partners in its electoral alliance (Fileva 2022), seem to reveal further reasons for its strong electoral showing.
Overall, the 2022 elections have not revealed any major shifts in voting behaviour. In Sofia the main bulk of the vote went in favour of liberal and right-wing parties, particularly PP, GERB, and DB (Gallup International 2022). In the major regional cities, the trend was a two-headed competition between GERB and PP with significant support for Vazrazhdane and BSP (Gallup International 2022). Small cities were dominated by GERB, while PP, DPS and BSP remained noticeably behind, whereas rural areas were the domain of DPS and to a limited extent GERB (Gallup International 2022). In terms of age PP, DPS and GERB were the main parties of young voters, whereas it was GERB and BSP that mobilised the bulk of the more senior vote (Gallup International 2022). Similarly, people with high education voted predominantly for GERB and PP, whereas those with primary degrees and lower voted mainly for DPS (Gallup International 2022).
The post-electoral period
The political stalemate remained following the elections. Series of consultations organized by the Bulgarian president Rumen Radev with the parliamentary-represented parties have not produced significant outcomes; the same came out of the GERB attempt to negotiate with all parties aside from Vazrazhdane. The parliamentary work became increasingly stalled: for the first time in the most recent history the parliamentary speaker has not been elected in the first parliamentary session but rather after series of negotiations. In the end the deadlock has been broken after BSP joined GERB, DPS and BV in supporting Vezhdi Rashidov from GERB to avoid "blocking the state" (bTV Novinite 2022).
Currently, the caretaker government, installed by Radev significantly delayed handing over the mandate to GERB and PP as per constitution, arguing his reluctance to hold early elections in the winter if all attempts for government formation fail. GERB received the mandate a little over two months after the elections and proposed a seemingly technocratic government, which included a broad spectrum of figures from previous centre-right and centre-left governments. The proposal has been rejected by parliament with only GERB, DPS, and BV supporting it. As of writing of this article, the mandate needs to be handed over to PP, which should occur in January. PP proposed the former education minister Nikolay Denkov as their candidate for prime minister and currently hold talks on acquiring support for it. There is, however, little prospect for their proposal to pass, even though PP held talks even with GERB to touch ground, but without much success. The last chance for government formation would be through the mandate of a third party. BV already expressed their interest for this role and current media reports suggest that GERB and BV seek a third coalition partner. Parliamentary work currently is dominated by the established parties of GERB, BSP and DPS. For example, ongoing debates on electoral code reform saw these three parties advocating for the restoration of paper ballots instead of machine voting (Kostadinova 2022). Such a change may significantly impact subsequent elections, as machine voting is seen as a fail-proof way to prevent corrupt voting practices. With incoming local elections in Bulgaria in the autumn of 2023, such a change may enable GERB to hold onto its strong presence in local government government and thus complicate the efforts to break the ongoing political stalemate.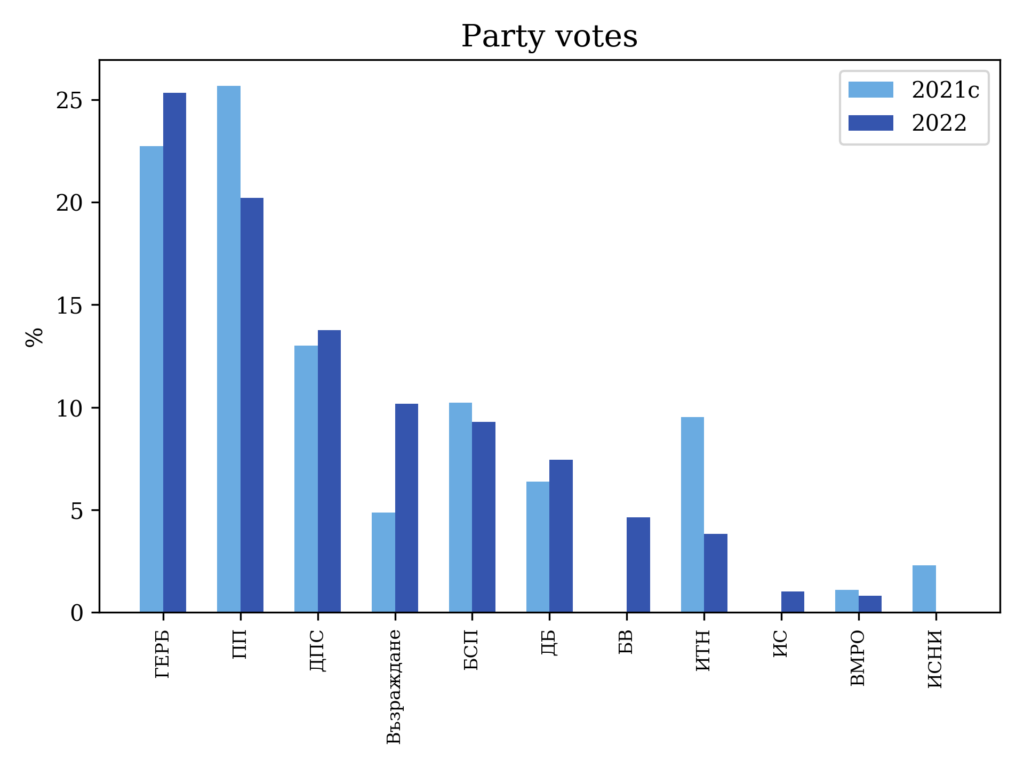 References
bTV Novinite (2022, 25 October). Ninova: Podkrepihme Rashidov, za da izvadim Bulgaria ot eventualna tezhka kriza [Ninova: We supported Rashidov to get Bulgaria out of a potential heavy crisis]. Btvnovinite.Bg.
Fileva, L. (2022, 9 October). Sluchaynost ili ne: kak Stefan Yanev povtori uspeha na partiyata na Kovachki v Samokov i Bobov Dol [Coincidence or not: how Stefan Yanev repeated the success of Kovachki's party in Samokov and Bobov Dol]. Dnevnik.Bg.
Gallup International (2022). Profili na vota, otnoshenie kam mashinite, vreme na vzemane na reshenieto [Voter profiles, attitudes towards machine voting, timing of vote decision]. Gallup International.
Kostadinova, S. (2022, 4 November). Na parvo chetene: GERB, DPS i BSP varnaha hartienata byuletina [On first reading: GERB, DPS and BSP restored the paper ballot]. Mediapool.Bg.
Mitov, B. (2022, 18 March). "Sledvashtiyat pat mogat da me ubiyat". Borisov izleze ot aresta bez obvinenie. ["Next time they may murder me". Borisov goes out of jail without charges.]. Radio Free Europe Bulgaria.
news.bg (2022, 28 Juin). PP: S GERB i DPS imame problemi s borbata s mafiyata [PP: With GERB and DPS we have a problem for the fight against the mafia]. News.Bg.
segabg.com (2022, 14 April). Asen Vasilev po povod ofertata na DB: PP ne e dyasna [Asen Vasilev on the offer by DB: PP is not right-wing]. Segabg.Com.
Trud (2022, 1 August). Liderat na GERB Boyko Borisov: Shte rabotim po 7 tochki, tryabva ni stabilnost [Borisov: We will work on 7 priorities, we need stability]. Trud.Bg.
Petar Bankov, Parliamentary election in Bulgaria, 2 October 2022, Mar 2023, 126-130.
à lire dans ce numéro
+
--