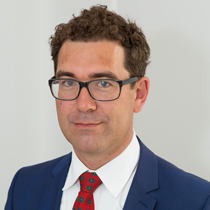 Professor and Chairholder of the European Energy Policy Chair at the College of Europe and Deputy Director of the Energy Community Secretariat
Retour à la liste des auteurs
Biographie
Dirk Buschle is Professor and Chairholder of the European Energy Policy Chair at the College of Europe. 
Since 2011 he has also been Deputy Director of the Energy Community Secretariat, the surveillance authority established under the Energy Community Treaty of 2005, and has led its legal unit since 2007. Mr. Buschle is in charge of ensuring implementation of European energy law in the countries of the Energy Community as well as dispute resolution and negotiations and acts as mediator in high-profile investor-state conflicts in the energy sector.
Between 2002 and 2007 Mr. Buschle was Legal Secretary and Head of the President's chambers at the European Free Trade Association. He also serves as Vice-Director of the Institute for European and International Business Law at St. Gallen University. He has written extensively on European Law and co-chairs the St. Gallen International Energy Forum
Dirk Buschle received his law degree from Constance University in Germany in 1995. He received his Ph.D. from St. Gallen University in Switzerland where he was also a researcher in European Law. 
Évènements associés
Bruxelles - Weekly Seminar
On December 16th, the GEG Weekly Seminar will discuss the geopolitics of nuclear civil energy. The discussion will be based on a paper written by Mathilde Teissonnière in...
Partners: The College of Europe, The European Institute at Columbia University, The Europe Center at the University of Cambridge, The School of Transnational Governance at the European University Institute
en savoir plus
En ligne - Weekly Seminar
Le 11 février, nous discuterons de "La Chine aux portes du réseau électrique européen", un document du Groupe d'études géopolitiques
Partners: The College of Europe The European Institute at Columbia University
en savoir plus