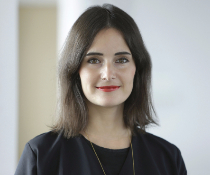 Head of European and International Economic Policy at the Federal Executive Board of the German Trade Union Confederation
Retour à la liste des auteurs
Biographie
Dr Dominika Biegoń is Head of European and International Economic Policy at the Federal Executive Board of the German Trade Union Confederation. She previously worked as a consultant for European Economic and Social Policy at the German political foundation Friedrich-Ebert-Stiftung.
Évènements associés
Bruxelles - Weekly Seminar
On March the 18th, we will discuss a paper written by a collective of economist and political scientists (Manon Bouju, Lucas Chancel, Anne-Laure Delatte, Stéphanie Hennette-Vauchez, Thomas Piketty,...
Partners: The College of Europe The European Institute at Columbia University
en savoir plus