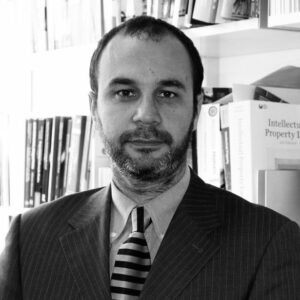 Reader at the City Law School
Retour à la liste des auteurs
Biographie
Enrico Bonadio is Reader at The City Law School, where he teaches various modules on intellectual property (IP) law. His current research agenda focuses on copyright protection of unconventional forms of expression, including graffiti and street art. Enrico has recently co-edited the book "Non-Conventional Copyright – Do New and Non-Traditional Works Deserve Protection?" (together with Nicola Lucchi, Elgar 2018); and edited the "Cambridge Handbook of Copyright in Street Art and Graffiti" (Cambridge University Press, 2019).
Enrico is Visiting Professor at Université Catholique de Lyon and visiting lecturer at the WIPO LLMs in Turin (Italy), Ankara (Turkey) and Shanghai (China). He has been Visiting Scholar at the University of Melbourne (2013), CUNY Law School (New York, 2016), University of Tel Aviv (2018 and 2019) as well as Hokkaido University (2019) and Keio University (2019) in Japan.
Enrico has been delivering classes and talks in more than 100 universities and institutions around the world (including John Marshall Law School in Chicago, University of Oxford, University of Cambridge, University of Windsor in Canada, University of La Havana) and frequently appears in the media as an IP expert. His research has been covered by CNN, Wall Street Journal, Washington Post, New York Times, Reuters, BBC, The Times, Independent and The Conversation, amongst other media outlets.
He holds law degrees from the University of Florence (PHD) and the University of Pisa (LLB), and is Associate Editor and Intellectual Property Correspondent of the European Journal of Risk Regulation as well as a member of the Editorial Board of NUART Journal.
é de Pise (LLB), il est rédacteur adjoint et correspondant en matière de propriété intellectuelle du European Journal of Risk Regulation et membre du comité de rédaction du NUART Journal.