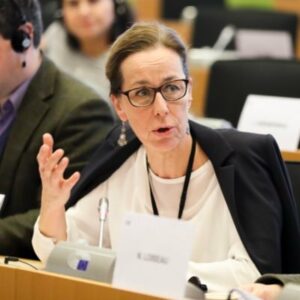 Member of the European Parliament
Retour à la liste des auteurs
Biographie
Fabienne Keller has served as MEP since 2019. She served as mayor of Strasbourg from 2001 to 2008 and as the Senator for the Bas-Rhin department of France between 2004 and 2019.
Ms. Keller began her career at the French Ministry of Agriculture from 1985 to 1988, where she managed the French cereals market. She then worked for the French Ministry of Finance where she managed financing agriculture and fisheries. In 1989, Ms.Keller was appointed CEO of CIAL bank (Crédit Industriel d'Alsace Lorraine) and then Crédit Commercial de France where she remained until her election as mayor of Strasbourg.
She did her military service in the French Navy, and remains a reserve lieutenant commander. She studied at the École Polytechnique and the National School of Rural Engineering, Water and Forestry. She also has a master's degree in Economics from the University of California, Berkely. 
Évènements associés
Bruxelles - Weekly Seminar
A discussion about a set of seven innovative proposals from a report, "Towards subsidiary crisis management in the COVID-19 pandemic - Germany's federalist experiment in transborder perspective".
Partners: College of Europe The European Institute (Columbia University).
en savoir plus