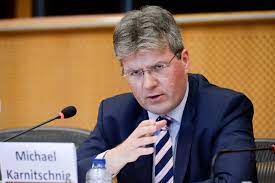 Director for External Relations at the Secretariat-General of the European Commission
Retour à la liste des auteurs
Biographie
Michael Karnitschnig is Deputy-Secretary-General for Inter-institutional relations (DG RELEX) at the European Commission. 
Under the previous Commission, he was Chief of Staff of Johannes Hahn, EU Commissioner for Neighbourhood Policy & Enlargement Negotiations. Previously, he has served as a Member of the Cabinet of EU Commission President Barroso, political adviser on EU enlargement, development and humanitarian issues and climate and energy policy and foreign policy spokesman from 2010-2011. He was part of the team preparing the creation of the European External Action Service in 2010.
Between 2007 and 2010, he was a Member of Cabinet of External Relations Commissioner Ferrero-Waldner, responsible for the European Neighbourhood Policy (ENP) and transatlantic relations. From 2004-2006, he served as Mrs. Ferrero-Waldner's speechwriter and in 2006-2007 was seconded to the German Foreign Office as an adviser on the ENP during Germany's Council Presidency. Michael Karnitschnig began his Commission career as Desk Officer for Serbia, Montenegro and Kosovo in DG External Relations and as a lawyer in DG Agriculture where he advised on agricultural trade.
Prior to joining the European Commission, Michael Karnitschnig worked in the Austrian Ministries of Foreign Affairs (1998-1999) and Defense (1997-1998, military service). Born in Innsbruck, he holds a Master of Law from the University of Graz and the Free University of Amsterdam (1996) and an MA in political science from the College of Europe in Brugge (1997).
Évènements associés
Bruxelles - Weekly Seminar
Le 4 février, nous discuterons de l'autonomie stratégique européenne en 2020, un document de travail qui a rassemblé les points de vue d'experts de +20 issus de divers...
Partners: The College of Europe The European Institute at Columbia Universityc
en savoir plus