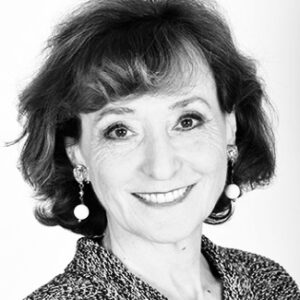 Former french minister of european Affairs
Member of the Scientific Committee of the European Law Journal
Retour à la liste des auteurs
Biographie
Noëlle Lenoir is a lawyer at the Paris Bar, and a former french Minister of European Affairs from 2002 to 2004, she was the first woman and youngest person to be appointed as Justice of the French Constitutional Court (1992-2001). She is also an honorary member of the Conseil d'Etat (Administrative Supreme Court). From 1990 to 1991, Noëlle was in charge of law and bioethics for the Prime Minister of France. She presided the EU Group of Ethics for Science & New Technology (1994-2001) and the International Committee on Bioethics of UNESCO (1991–1998) which drafted the Universal Declaration on the Human Genome and Human Rights Declaration endorsed by the United Nations in 1998. She was Chief Legal Officer of the French Data Protection Authority (1982-1984) and Chief of Staff to the Minister of Justice (1988-1990). Since 2008, she has been a director of various companies and is now a director of Sopra-Steria.
She was appointed as a member of the Independent Compliance Review Panel to perform the review of Airbus' compliance program in the context of international investigations conducted in France, the United Kingdom and the United States. She has built a recognized practice in relation to judicial cooperation and serves as a commissioner in charge of obtaining evidence in relation to cross-border disputes. Noëlle also advises companies faced with climate-related lawsuits. She has extensive expertise in European law and good knowledge of the institutional complexities of the EU.
Noëlle Lenoir is a member of the American Law Institute and of the French Academy of Technologies. She is also a member of the Board of Directors of the French Association of Constitutionalists, the French Maritime Cluster and HEC Business School. She is vice-president of the French Committee of the International Chamber of Commerce and chairs the Legal Commission of the "Grand Paris/Île de France." Founding President of the Cercle des Européens, a European think tank, she chairs the "Law and Public Debate" Committee whose mission is to comment on current topics from a legal point of view. She was Ethics Officer of the French National Assembly (2012-2014) and chaired several ethics committees, including the French Public Broadcast's Ethics Committee and the National Parcoursup's Ethics and Scientific Committee. Affiliated professor at HEC, she chairs the Institute of Europe. She taught at the University of Paris I Panthéon Sorbonne, Columbia Law School and University College London. She is also honoris causa of University College London and Suffolk University.
Évènements associés
Paris - Privé
Private event, for more information, contact us.
en savoir plus