Géopolitique, Réseau, Énergie, Environnement, Nature
"Finding innovative partnerships is one of the biggest political tasks in the years to come"
Issue #3
Scroll
"Finding innovative partnerships is one of the biggest political tasks in the years to come"
Izabella Teixeira
Co-Chair of the International Resource Panel
Auteurs
Izabella Teixeira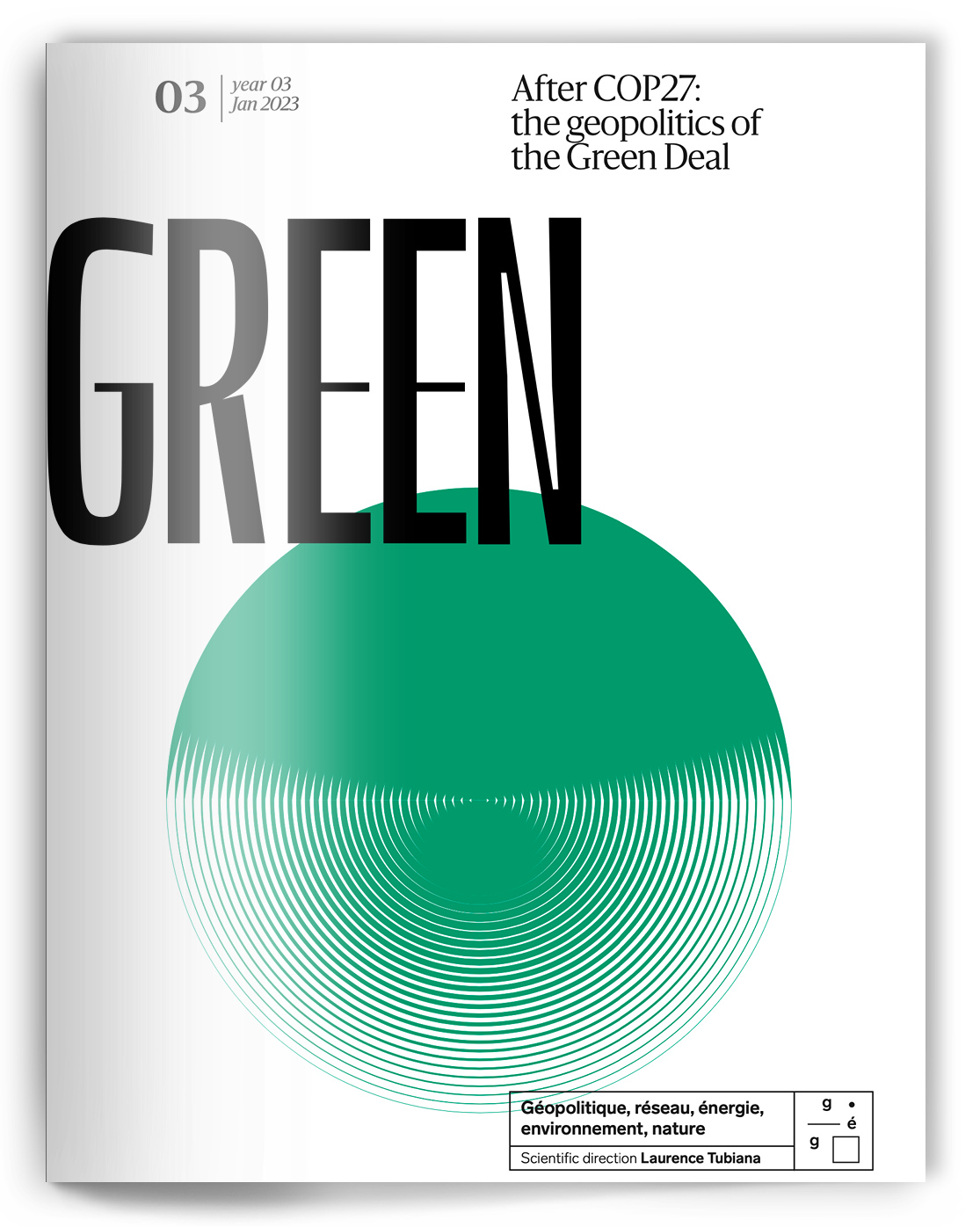 GREEN is published by Groupe d'études géopolitiques, with the support of the Fondation de l'École normale supérieure
After Cop 27: Geopolitics of the Green Deal
What is the state of the environmental and ecological situation in Brazil after Bolsonaro's term ?
The legacy of the Bolsonaro term is the destruction of environmental and climate governance. You can see it through the increasing rate of deforestation. The institutional framework has completely collapsed. Lula's administration will have the huge challenge of restoring Brazil's international and national credibility even though the society fully supports environmental measures and the Amazon's protection. 1  
What do you think should be the most pressing measures to be adopted by Lula ?
We need to completely review our strategy regarding deforestation and climate change more broadly. The involvement of the public sector will be crucial.
I truly believe that the trajectory of environmental policies and environmental governance in Brazil will be totally different than it was in the last 50 years. In 1973, Brazil established the first institutional framework for environmental protection. Bolsonaro's style of governance completely reversed this step by step process. He contributed to the erosion of relationships between the national, federal governments and transnational institutions. The bottom line is that during the past four years, Brazil's democracy has been under threat. We now have the task of bringing civil society and scientific institutions together. We need transparency and credibility and ambition to manage this agenda by looking towards the future, not back to the past. We need to design and build institutions to face the enormous challenges that lay ahead. Lula has the opportunity to review Brazil's strategy from scratch and to propose something new: a common vision, common objectives, common interest to make sure that we can move forward without any further setbacks.
In terms of international cooperation, now that Lula won the elections, are we heading towards a trade agreement between the EU and MERCOSUR?
Brasil used to have good relations with all the international actors. The European Union is part of this set of partners. We had a very good bilateral relation with the European Union and individually with European countries such as Germany, for example.
What Brazil needs in my opinion it's open dialogue. We need to have a discussion on international trade agreements, especially the one with Mercosur, that we have been discussing for twenty years. I'm confident that the new Brazilian government will reestablish the political grounds for the dialogues and multilateral actions that we need, particularly in terms of cooperation on fighting climate change. There are currently two agreements: the political one and the commercial one. I'm confident that the Brazilian government will take the necessary steps in such a way that we can have this trade agreement.
Will the war in Ukraine affect these prospects?
The war in Ukraine is very complex and sensitive, but based on what I have been discussing with partners like France, there is an interest in moving forward. Brazil is a country of peace. We are part of a set of 15 countries that have relationships with all other countries in the world. I do believe that Brazil and the European Union must come together. Of course, the war changed our perspectives but I'm confident that in spite of the war and more generally the unusual situation of having a high intensity conflict in Europe in the 21st century, we will be able to find an agreement. We must also address the impacts of the war on food, climate and energy security, and the diversity of geopolitical arrangements.
I'm confident that the bilateral relation between Brazil and the EU is strong enough to manage these issues. According to the discussions I had, both sides are interested in coming together and moving forward. More broadly, we need to address together the impact of the war in developing countries: it is unacceptable what is happening in Africa.
The war in Ukraine is not the only point of possible tentions. How will Lula's government position itself in relation to the discussion on the EU Carbon Border Adjustment Mechanism?
I am not sure what will be the position of the new government. However, we believe in bilateral understanding not unilateral decisions, because the degree of transparency and credibility that we need to build at global level is not possible without trust. I do believe that Brazilian society wants to put climate back at the top of the agenda. We are going to address deforestation issues. It is in our own interest to have, for example, production of beef without deforestation.
On the other hand, it is very important for the international community to be aware of what is happening in Brazil, how supply chains are interlinked, we need to have more coordinated answers: international trade must not allow or be a catalyst for illegal deforestation. It's absolutely unacceptable that someone can buy products that come from illegal procedures. We need to have a process, to decouple activities, and not only for international committees but for our national consumers too. We have the technologies, we have the private sector's commitments, now we need traceability as we did in the past for example with soil monitoring. I hope that Lula's government will make this one of the top priorities.
How can Brazil and more generally Latin America overcome the tension between addressing climate change and difficult socioeconomic situations that may require to rely, at least in the short run, on fossil fuels?
Latin America has a variety of situations and realities. Central America is absolutely different from South America. South America has two big challenges. First, Amazon's protection. President elect Lula is right to emphasize the importance of coming together around the Amazon. We already have the Amazon Cooperation Treaty Organization, which means that the institutional framework is there. A step forward would be to address cooperation at the presidential level, not only to the level of the Ministries of Foreign Affairs. We need to politically upscale the existing institutional processes.
Then, you are right to emphasize, we need to decrease emissions while dealing with short term perspectives. To be able to do that, we need to come together politically and understand where we stand. Next year we will discuss the question of reforming the Bretton Woods institutions and it is very important for us to understand the new role of multilateral development banks. In Brazil we have a powerful national development bank.
What does this mean exactly?
We need to connect the dots, we do not have time to buy. Common actions and solidarity in terms of climate, food security and education may be at the center of this process. It is unacceptable that in a country such as Brazil, we have food security problems, as we are one of the most important food exporters in the world. This is also the case for Chile. We have in South America, and particularly in Brazil, in terms of natural resources and biodiversity, alternatives to address this multitude of crises. Chances are, next year will be even more difficult. So we need to come together, and starting from our environmental and climate concerns and considering the crisis that is coming next year, have a dialogue and make sure we are aligned. This is my hope: that Latin American countries will consider this diversity of realities and come together to promote sustainable development which could also strengthen our democracies.But how do we mobilize a common political vision? Finding innovative partnerships is one of the biggest political tasks in the years to come.
Is the environmental agenda an opportunity to catalyze more South-South relations?
When we go into an alliance, it's very important to understand how this decision will allow us to move forward with the green transition, on subjects as precise as climate finance for exemple. In this context, South-South cooperation is particularly important, because we need to land this political will in an institutional framework. We can develop tools to translate our political views and get quick gains for local people. So it's very important to have common tracks to come together and consider different realities based on the commitments we have. We also need to understand the impacts of different realities and how to put this in practice. In order to change our realities we need scalability. This means that we need to promote institutional conditions, not only in the public sector but also to bring private sector and civil society closer and closer to the commitment to a long term vision.
So when you go into the Amazon region in Brazil, we have a big challenge, how do we discuss infrastructure, if we want to promote inclusiveness and well-being for our society. How do we discuss the lack of digital infrastructure? Everything is interconnected: the lowest rates of Human development index in Brazil are exactly in the Amazon. So it's very interesting to see how we can combine our challenges regarding education, public health, with Amazon's protection. We need to go into the core of societies' problems to promote security and development. Based on international criteria, all these countries are middle income countries. But when you get into the Amazon region rates and indexes show that we are just low income countries.
The international community doesn't see this because we have such fix criterias. So we need to bring these realities to international forums, to unlock some procedures that will bring private funds. It's not on a small scale that we are going to solve these challenges.
Notes
Izabella Teixeira, "Finding innovative partnerships is one of the biggest political tasks in the years to come", Jan 2023, 97.
à lire dans ce numéro
+
--