Géopolitique, Réseau, Énergie, Environnement, Nature
Inclusive Multipolarity
Issue #3
Scroll
Auteurs
Laurence Tubiana , Bernice Lee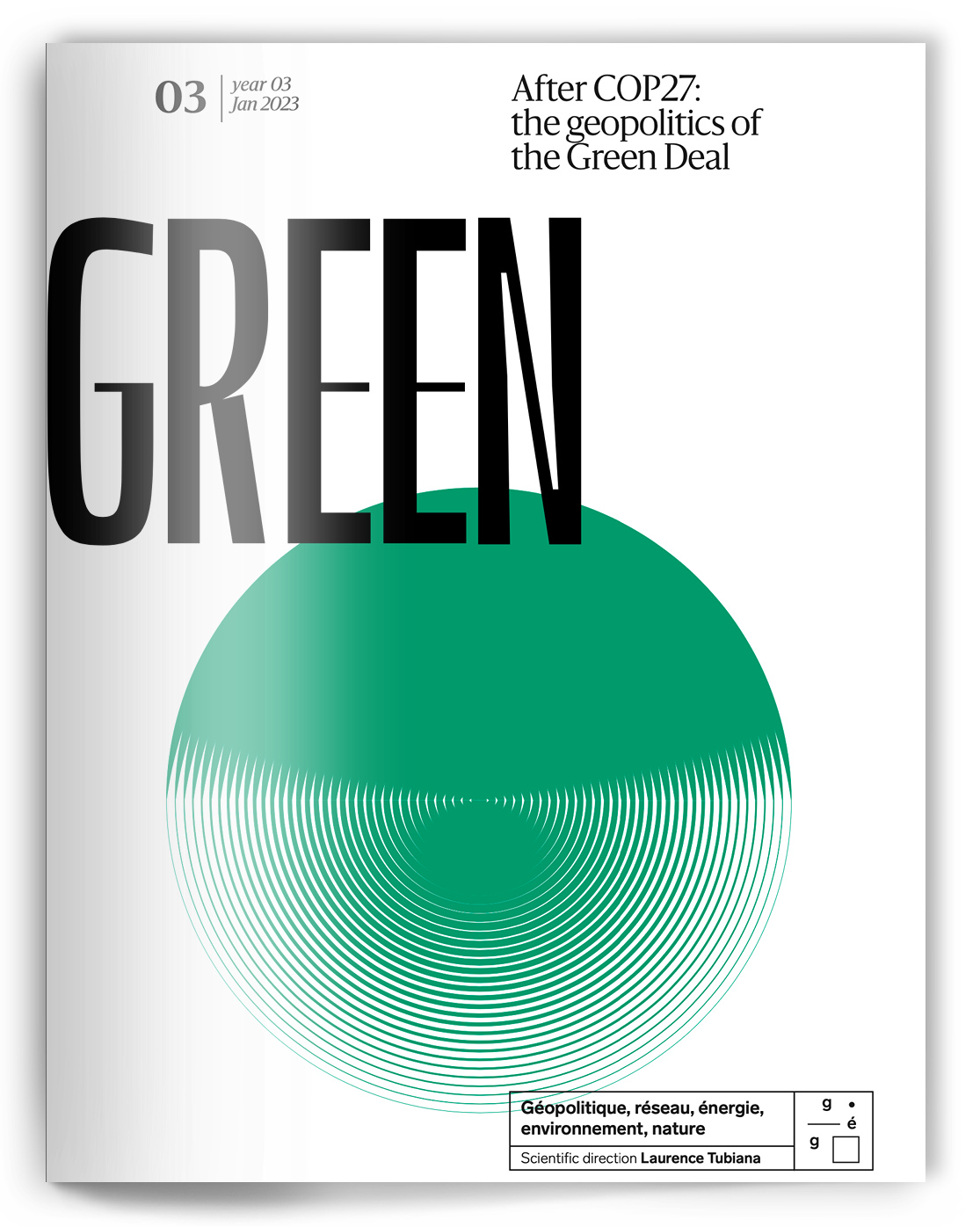 GREEN is published by Groupe d'études géopolitiques, with the support of the Fondation de l'École normale supérieure
After Cop 27: Geopolitics of the Green Deal
Introduction
In just two years' time and despite the US midterm results, European leaders could plausibly be contemplating a second Trump presidency on one side, and an increasingy assertive and inward-looking China on the other. While the climate crisis is becoming impossible for any leader to avoid outright, it is fair to assume that such a scenario would be bleak for collective climate action, and for multilateralism in general.
The mere possibility of this outcome clarifies the path forward for European leaders today. Europe's pivotal role between the US and China has never been more important, and in fact, compels Europe to consider its role and reach far beyond this "G3".
It is Europe's job to create conditions – a broad path dependency – which helps to hold China and the US accountable to their climate commitments, as well as facilitate a functioning multilateral system writ large. Russia's invasion of Ukraine has further darkened the geopolitical map from Europe's standpoint, amplifying the need for a more assertive and cohesive European voice on the world stage.
The two challenges are connected, bound as they are in macroeconomic policy and energy diplomacy. European governments and the EU are adjusting to Russia's imposed energy crisis, using the pre-existing European Green Deal (and the emergency RePowerEU plan 1 ) as their organising principle. This approach is also, by far, the most advanced institutional and bureaucratic toolkit in progressing the Paris Agreement, setting goals of reaching net-zero by 2050, a 57% reduction in GHG by 2030 (upgraded from 55 at COP27), and a detailed set of adequately funded sectoral packages to get there. Without this framework, the potential impact of Russia's energy warfare on European solidarity would likely have been even more severe.
This points, too, to Europe's necessary leadership role: leaning into its first-mover commitment to decarbonisation and finding new ways to punch at its own weight in the process. It must do so quickly, lest a crisis – today's in Ukraine, or another tomorrow – finally succeed in fragmenting European unity, leaving China and the US with fewer guardrails against their worse instincts on the international stage.
Europe and the new non-alignment
If Europe does not want to be marginalized by entrenched "G2" tensions and an increasingly multipolar world, it must become the bridge to a more functioning global decision-making system in this context of multi-polarity. This much follows on paper. But Europe is evaluating the gap between its rhetoric and the depth of the resentment it has engendered around the world in recent years. Russia's invasion of Ukraine, far from isolating the Kremlin, has in fact exposed a dynamic of non-alignment in the international system.
Broadly, it is European leaders who find themselves more isolated on the global stage than they expected. Successive votes at the UN General Assembly 2 in condemnation of Russia's aggression have seen China abstain or oppose (although, by October 2022, this trend indicated a growing isolation of Russia on the 'narrower' issue of Ukraine's territorial integrity 3 ). Major democracies like Brazil, Indonesia, India, Senegal, and South Africa have hedged in their position on the war. By hosting delegations and undertaking high-level visits, Russia has competed with EU and US overtures to other regional blocs, intensively courting members of the AU and ASEAN.
Despite the unspeakable civilian suffering in Ukraine, much of the world is wary of taking sides. This owes to a perception of European double standards: Ukraine is far from the only conflict or crisis in the world today. Russia's vast leverage over energy and commodity prices, and Europe's uneven diplomacy on the likes of Covid-19 vaccines, debt, migration and climate finance have also brought us here.
"Non-alignment" offers governments avenues to boost their autonomy in foreign and energy policy. Indirectly, this reduces pressure on Russia and allows it to pursue an attritional approach to the war, rather than seek a rapid end of hostilities.
This context is worsening macro-economic prospects. At a time of global recession fears and rising interest rates, this has immediate implications for ambitious and multilateral climate action, especially as it relates to the crucial issues of finance and debt. Sixty percent of low-income countries are at risk of debt distress 4 , and the IMF's global outlook for growth and trade looks increasingly bleak with each passing month 5 . It will be difficult for advanced economies to make the domestic case for expanding grant aid to other countries, or for those same recipient countries to take on more debt in the shape of climate finance. 
Europe, moreover, is under enormous fiscal pressure across the board. It looks difficult to inject trust into the climate finance architecture all while it faces several competing and urgent priorities. One, of course, is to continue supporting Ukraine militarily. Another is to prepare the next two or three winters. The expert consensus is simple: Europe faces difficult, cold months ahead 6 . Risks of supply shortages are real. No amount of alternative gas imports can offset them. The combination of the intense pressures on the cost of living will require strong – and hugely costly – social policy measures to respond to the soaring inflation, and address fuel poverty through targeted energy efficiency programmes, costing European governments hundreds of billions of euros. 
Europe as a bridge to a new multipolar reality
Nonetheless, Europe should rise to the global climate finance challenge in any way it can. For starters, while it is not European countries' responsibility alone to meet the still-failed threshold of US$100 billion in climate finance – which advanced economies remain US$17bn short of, according to the OECD 7 – the contrast with its rapid ability to mobilize pandemic and Ukraine-related domestic spending is very dimly viewed by governments in need around the world, illustrated in the tensions surrounding the G20's failure this summer to agree a climate communiqué. Although the Bali Leaders' Summit, in November 2022, managed to overcome these differences, Europe must continue to make every effort to increase the volume and quality of climate finance, as a trust and credibility-building signal to the most vulnerable countries. COP27 only highlighted how persistent these tensions are. 
Europe can also keep ramping up the establishment of 'Just Energy Transition Partnerships (JET-P)' with key partners. The prospect of an US$8.5 billion finance deal for South Africa's energy transition out of the coal sector, supported by European governments together with the UK and the US was one of the high points of the COP26 in Glasgow. It was also a crucial signal of intent within the G20, many of whom still propose vastly inadequate NDCs despite representing 80% of global emissions. Since the announcement, the road to finalizing this agreement has looked bumpy, not least because South Africa's president, Cyril Ramaphosa, has been an outspoken proponent of non-alignment, going so far as to blame NATO for Russia's unprovoked attack on Ukraine and proposing counter-resolutions at the UN General Assembly seeking to exculpate Russia's actions from the major humanitarian crisis it has engineered. In parallel, the South African authorities have raised doubts over the structure of the finance and the pressures it could place amid existing fiscal constraints. Despite these headwinds, the partnership appears to be progressing, with South Africa publishing its JET-P investment plan in August this year. More recently, the agreement of a second JET-P with Indonesia, announced at the conclusion of their G20 presidency, shows that this is a viable platform for negotiations between donors and beneficiaries, based on high standards and mutual accountability, with public and private finance mobilised to the tune of US$20 billion to transition Indonesia's power sector out of coal. Co-led by the United States and Japan, together with Canada, Denmark, France, Germany, Italy, Norway, and the United Kingdom, it is a promising blueprint to deepen partnerships with countries in the G20 and beyond, especially those exposed to the commodity market volatilities triggered by the Kremlin.
Under Germany's G7 presidency, donor governments have entered discussions with other governments including India (holders of the G20 presidency for 2023), Senegal and Vietnam. These countries are all non-aligned on the Ukraine issue. A concrete and well-financed rapprochement with these governments in energy cooperation – all regional leaders and potential key players in the green transition – would be positive on all counts, and points to a way forward for European diplomacy.
But the most crucial and necessary institutional challenge to European governments relates to reforming the Bretton Woods institutions and making them fit for the scale of the climate crisis. The good momentum on the issue of Special Drawing Rights (SDRs) achieved under the leadership of the Prime Minister of Barbados, Mia Amor Mottley, was a highlight of COP26 and COP27 and must be maintained. As key members and shareholders of the IMF and multilateral development banks, European governments can increase their lending and encourage ways to operationalize the IMF's Resilience and Sustainability Trust mandated to release SDRs for countries climate finance needs', as well as ease the terms upon which these funds may be released to MDBs and spent thereafter. European member states of the IMF could further push for the "V20" group of climate vulnerable countries to become an official grouping at the IMF, replicating the type of dynamic which made of success of the COP21 negotiations. Here again, the G20 Leaders summit in Bali saw a very welcome announcement by President Macron of a special summit in the summer of 2023 to help bring forward the Barbados "Bridgetown Agenda" as part of a broader debate on new financing tools in our international finance architecture. This offers promising progress for climate vulnerable middle-income countries in particular who face growing risk of debt distress from climate shocks.
New EU-China channels for times of crisis
The Biden administration's Inflation Reduction Act, which passed this summer, has restored some of the US' credibility on climate action. This looks to create ample new incentives for the net-zero economy on both sides of the Atlantic, although the largesse and opacity of IRA subsidies have also fuelled concerns that they could hinder the competitivity of European net-zero industries.
Nonetheless this "rapprochement" risks causing Europe to further neglect EU-China channels on climate action. Most significantly, trade runs the risk of becoming a stumbling block in EU-China climate diplomacy. This is bad news, as it is difficult to envision an effective global transition to 'net-zero' with these two major economic blocs shutting the doors to each other's markets.
The European Union's Carbon Border Adjustment Mechanism (CBAM) provides an illustration of how trade policy can impact climate diplomacy, but points also to a pragmatic way forward to align geopolitical blocks on the essential issue of decarbonizing heavy industry. The decision to implement a CBAM in the EU originated in the recognition that its Emission Trading System (ETS) is less effective than originally hoped to trigger emission reductions in its industrial sector. The proposed ETS reform will phase out the allocation of some free emission quotas, which implies charging the concerned industries for all their emissions instead. The result would be an immediate additional cost on those industries, putting competitors outside the EU at a sudden advantage. What seems fair from the EU climate policy perspective – a 'tax' at the border to offset a new 'tax' on emissions within the EU – was immediately portrayed by EU trade partners, China included, as trade protection in guise of climate action.
Some EU policymakers argued that trade partners could implement similar carbon pricing policies to avoid paying the full CBAM cost when selling their industrial products in the EU. This is an overly simplistic view, overlooking that countries have the right to adopt mitigation policies of their choice, and China's own approach illustrates this diversity (with its own version of an ETS that applies mostly to power generation, coupled with a different framework of incentives and regulations on energy intensity or total energy use).
Ultimately, the tensions surrounding CBAM in China show that Europe must improve its efforts at communicating its intension: it is about clarity on carbon content and taking us towards net-zero, not dictating the way other countries decarbonize, or indeed about punitive tariffs.
The CBAM's silver lining is its effective technical contributions to the mammoth task of decarbonization. Its implementation will entail a proper evaluation of the greenhouse gas content of traded commodities, including aluminium, cement, electricity, fertilisers, iron and steel (the European Parliament has gone into the trilogues with a proposal to extent scope to hydrogen and polymers). This is an issue that all major industrialised countries must tackle at once as they need to monitor their own industry's progress towards decarbonization, regardless of the policy tool used for that purpose. Increasingly, public and private procurement for buildings or cars will shift to demand lower-carbon cement, steel or aluminium and standards will emerge to ensure the environmental integrity of these products.
The opportunity exists for a global approach to these GHG measurement and certification systems, and the EU and China can help advance the global effort in that space, as two major trading blocs with high climate ambition – and very similar challenges in the decarbonization of heavy industry.
In this sense, and if applied, it could be a useful instrument towards mutual accountability and transparency of carbon content: a key trust-building tool for climate action.
Infrastructure investment is another area where greater trust-building is needed. On paper, there is ample scope for enhanced cooperation between China's Green Belt and Road, Europe's Global Gateway, the US' Build Back Better World, and the G7's Partnership for Global Infrastructure Investment initiatives, helping these global infrastructure spending envelopes be cleaner and more complementary. The current discourse around these respective ventures is solely adversarial, when the priority should be to re-centre the conversation on recipient countries' immediate needs, as well as the macro-financial need to mobilize quality, large-scale investments towards the Paris Agreement goals. While this sounds like a faraway goal today, there are nonetheless notable green shoots in the form of bilateral partnerships, for example between China and France, to fund a range of infrastructure projects, mainly in African countries, to the (modest) tune of EUR 1.5 billion 8 .
A better relationship on trade and investment would, in a functioning international system, further entail a better EU-China dialogue on debt, and a functional multilateral response to debt in general. At any rate, a new and concerted approach to debt relief and restructuring is necessary, and creditors know it. China's August 2022 announcement of debt relief to 17 countries may indicate a willingness to engage in greater debt diplomacy. The recent debt relief agreement reached between China and Zambia was also a positive sign. The negotiation, co-chaired by China and France under the aegis of the Club of Paris, is evidence that spaces for constructive discussion are possible. This is something European governments can encourage, as more countries face burning debt crises pushed by the high commodity prices aggravated by the Russian war, which climate shocks could aggravate further, as was the case with Pakistan's floods: conservative estimates place at a cost of 2% of GDP 9 . With an IMF deal reached in recent months in Sri Lanka, there is an obvious test for the international community to respond to the volatile situation in the country – whose government is also highly indebted to China – as it faces a widespread food security crisis triggered by its depleted finances. The terms of the IMF deal require further restructuring negotiation between Sri Lanka and its bilateral creditors, including China, Japan and India 10 . As in the case of Zambia, European governments can take a key role to facilitate these discussions under the aegis of the Club of Paris of sovereign creditors. 
The Brussels effect – and the line to Beijing
Ultimately, Europe's greatest source of leverage with China and beyond is in the power of still possessing – for now – the largest single market area. The norm-setting power this confers is significant, and one Europe can do more to assert. The EU has exerted soft power for years in areas such as appliance efficiency, vehicle emissions and many other critical sectors. When it comes to the energy future, this soft power advantage may plausibly extend to other technical areas, including EV standards, and in accelerating the worldwide pace of exit for the internal combustion engine (ICE), on the impulse of Europe's targeted 2035 phase-out. As German chancellor Olaf Scholz's recent landmark speech highlighted, Europe also has an opportunity to lead in emerging areas including energy storage, hydropower, wind, solar and hydrogen.
Today Europe is also exploring the extent of its 'harder' commercial power and how it may wield it in the advancement of climate ambition. If the CBAM was borne out of domestic necessity and the prior design of the ETS, the development of deforestation-free value chain legislation is a significant and visionary development, which has created space for dialogue with China as it seeks to ensure the sustainability of its timber imports 11 . The Commission's proposed directive for corporate sustainability due diligence is likewise significant. By further raising the ambition of the trade and sustainable development (TSD) chapters in its trade agreements, Europe can encourage trade partners to adapt to the EU market's increasing ambitions in creating environmental, social and climate constraints. Lula's election in Brazil promises to inject a new dynamic into the Mercosur negotiations – keeping in mind that, as past Mercosur deliberations have shown, the European Parliament is not minded to compromise on the environmental integrity of trade deals proposed.
This brings us to the most obvious obstacle to deepening the EU-China climate track. Potential areas for multilateral collaboration notwithstanding – to which could be added positive new agreements with China's support at WTO, including on plastic pollution as well as ending fishery subsidies – the suspended trade and investment talks between the EU and China show that the relationship is in a difficult place, having previously been driven by Angel Merkel in her final weeks as Chancellor, and then-holder of the EU Presidency. From the Commission to the Parliament, adversarial rhetoric is commonplace, and China's tacit – though ambiguous – support to Russia has evidently damaged scope for dialogue even further. This has also fuelled dynamics of non-alignment vis-à-vis Europe and Ukraine. The barbs and finger-pointing swapped between EC Vice President Frans Timmermans and China's Ministry of Foreign Affairs following the failed G20 climate talks in late August 12 show how far we have come since the relationship on climate action which European and Chinese officials had developed during the Trump presidency. Olaf Scholz's decision to visit China in the autumn – at odds with the prevailing views among European leaders, as well as within his own coalition – is difficult to parse along any trend other than the imperative to walk the world back from nuclear tensions. Suffice to say it exposes the persistent challenge of maintaining European unity in its "balancer" role.
Europe must also anticipate the likely fallouts which come with heightened scrutiny: when Europe's climate ambition falters – for example, by authorizing long-term fossil fuel investments within its emergency drive to diversify from Russian oil and gas – it can always expect such actions to be seized upon by opponents of climate action, including in China. The inclusion of gas in Europe's sustainable finance taxonomy – despite conditions and constraints on its use – was also enough to send an unhelpful (and widely publicized) signal, particularly as China's own taxonomy excludes gas and LNG.
Back in September 2020, when President Xi Jinping announced China's aim to be carbon neutral by 2060 and an emissions peak before 2030, the EU was already showing its capacity to help lift large-emitters' targets: while this announcement was first and foremost a reflection of China's domestic commitment to climate action, the EU's prior Green Deal unveiling gave China the opportunity to find a key partner – and EU leaders as interlocutors – with whom they could have a clear line of communication in the lead-up to this major breakthrough. It is also reasonable to infer that the timing of China's announcement in the lead up to the 2020 US presidential elections was also a diplomatic hedge on its outcome: shoring up its climate leadership in tune with Europe's own stated ambitions was valuable, in order either to outflank a second Trump term, or pre-empt a renewed climate impetus and rapprochement with Europe under a Biden presidency. Ultimately, the credibility of Europe's climate action should incentivize climate action at large, regardless of whether that incentive is competition or cooperation.
Conclusion
For Europe, the challenge is to balance asserting its commercial power, projecting its climate ambition, and investing critical topics where dialogue can continue to be 'compartmentalized' – on issues such as climate, infrastructure, debt, and more. As daunting as this sounds, this highlights Europe's inherent bridging power and potential to leverage the best out of both parties. Just as daunting: Europe's missteps, particularly in relation to energy policy after Russia's invasion, will be the strongest argument put forward by opponents of climate action at the pace compelled by science.
Failing this challenge, European climate diplomats, scientists and other experts will find themselves increasingly unable to shore up their allies and counterparts in China and the US, who remain even more exposed than Europe's to opponents in their domestic political settings.
This is not a far-fetched threat. It bears reminding that after House Speaker Pelosi's visit to Taiwan in August, all bilateral climate cooperation between the two governments were frozen even down to the lowest working levels, until their re-establishment at COP27.
This type of diplomatic posture, combined with punitive sanctions in areas of trade and technology (from photovoltaic panels to semiconductors, as the US have demonstrated) presages the permanent threat of further breakdown in China-US relations, which could set the world on course for a protracted and painful fallout: normalizing non-cooperation in a fragmenting geo-economic order, all while climate impacts intensify. This may drive further fragmentation, absent a concerted effort to use collective action – or peer pressure – in order to deliver on the Paris Agreement's intended momentum.
A final source of European bridging power lies in moral leadership. EU leaders including Frans Timmermans' successful championing at COP27 of a "Loss and Damage Fund", channelling years of political momentum from representatives of the most vulnerable countries, shows Europe playing a role that few in the advanced economies can. In providing the additional impetus to enshrine loss & damage within the multilateral process, Europe has enacted a tectonic political shift in favour of vulnerable countries, creating an emerging opportunity to build and reinforce climate justice across our institutions. Even in the final hours of COP27 negotiations, the Fund's mandate – now a reality – was not a given. Europe can be a security anchor for the world in the new climate reality. Acts like these show why.
Notes
Laurence Tubiana, Bernice Lee, Inclusive Multipolarity, Dec 2022,
à lire dans ce numéro
+
--