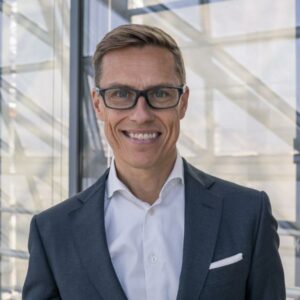 Former Prime Minister of Finland
Retour à la liste des auteurs
Biographie
Alexander Stubb is a former Prime Minister as well as former Minister of Finance and Minister of Foreign Affairs of Finland. 
Alexander Stubb served as Member of the European Parliament from 2004 to 2008 and in the Finnish Parliament from 2011 until 2017. From 2014 through 2016, he was Chairman of the Finnish National Coalition Party (Kokoomus) and from 2017 through 2020, he was Vice President of the European Investment Bank (EIB).
Between 1995 and 2004, he was an advisor at the Finnish Ministry of Foreign Affairs in Helsinki and Brussels and within President Romano Prodi's team at the European Commission where he participated in the negotiation of the Amsterdam, Nice and Lisbon treaties.
He currently serves as Director and Professor at the School of Transnational Governance at the European University Institute in Florence and was Visiting Professor at the College of Europe in Bruges between 2000 and 2007.
Mr. Stubb is the author of numerous books on the European Union and a regular contributor to European publications. He is considered an expert in the fields of European and international affairs, European and global economics, and foreign and national security policy.
He received his Ph.D. on differentiated integration from the London School of Economics, a Master's degree in EU Administration from the College of Europe, and a Bachelor's degree in Political Science from Furman University in South Carolina. 
Évènements associés
Bruxelles - Weekly Seminar
On April 8th, we will discuss Clément Beaune's interview with the Groupe d'études géopolitiques
Partners: The College of Europe The European Institute at Columbia University
en savoir plus