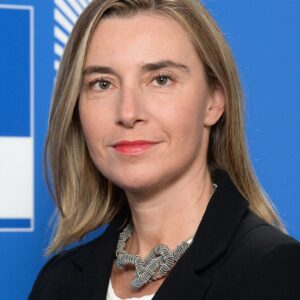 Former High-Representative of the European Union
Retour à la liste des auteurs
Biographie
Federica Mogherini is the Rector of the College of Europe and co-chair for the United Nations High Level Panel on Internal Displacement.
Federica Mogherini was the High-Representative of the European Union for Foreign Affairs and Security Policy as well as Vice-President of the European Commission from 2014 until 2019. Before her time at the Commission, she served as Italy's Minister for Foreign Affairs and International Cooperation in 2014 and was a Member of the Italian Parliament from 2008 to 2014. While in the Italian Parliament, she was Head of the Italian Delegation to the NATO Parliamentary Assembly and Vice-President of its Political Committee, a member of the Italian Delegation to the Parliamentary Assembly of the Council of Europe, Secretary of the Defence Committee, and member of the Foreign Affairs Committee.
She is a Fellow at the Harvard Kennedy School and the German Marshall Fund, a member of the Board of Trustees of the International Crisis Group, a member of the Group of Eminent Persons of the Preparatory Commission for the Comprehensive Nuclear Test Ban Treaty Organization, the European Leadership Network for Multilateral Nuclear Disarmament and Non-Proliferation, and member of the Board of Directors of the Italian Institute for Foreign Affairs (IAI).
Ms. Mogherini holds a degree in Political Science from the University of Rome "La Sapienza."
Évènements associés
Bruxelles - Weekly Seminar
On April 8th, we will discuss Clément Beaune's interview with the Groupe d'études géopolitiques
Partners: The College of Europe The European Institute at Columbia University
en savoir plus