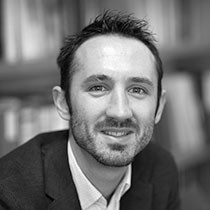 Reader in Modern European Politics, University of Cambridge
Retour à la liste des auteurs
Biographie
Christopher Bickerton is University Lecturer in politics at POLIS and an Official Fellow at Queens' College, Cambridge as well as Visiting Professor at the College of Europe in Bruges.
Since obtaining his PhD from the University of Oxford in 2008, Mr. Bickerton has held teaching positions at Oxford, the University of Amsterdam (UvA) and Sciences Po in Paris. He has published two research monographs, European Union Foreign Policy: From Effectiveness to Functionality (2011) and European Integration: From Nation-States to Member States (2012), the latter of which won the Best Book prize by the University Association of Contemporary European Studies. His 2016 book The European Union: A Citizen's Guide was submitted for the Baillie-Gifford prize, the UK's leading non-fiction literary prize. His articles have been published in Financial Times, Wall Street Journal, The Guardian, New York Times, Foreign Policy, Foreign Affairs, The Big Issue and he is regularly interviewed for national and international radio.
Évènements associés
Bruxelles - Weekly Seminar
On May 13th, the GEG Weekly Seminar will discuss Christopher Bickerton and Carlo Invernizzi Accetti's text "Le piège technopopuliste". The GEG Weekly Seminar is a series of high-level...
Partners: The College of Europe The European Institute at Columbia University The Europe Center at the University of Cambridge
en savoir plus