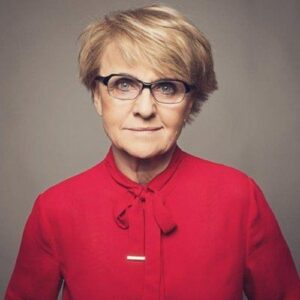 MEP since 2009, former European Commissioner for Regional Policy and former Polish Minister for European Affairs
Retour à la liste des auteurs
Biographie
Danuta Hübner has been an MEP since 2009. She previously served as a former Polish minister for European Affairs (2003-2004) and European Commissioner for Regional Policy (2004-2009).
Danuta Hübner holds her MSc, PhD, and post-doctoral degree in international trade relations in Economics from the Warsaw School of Economics, where she has been a professor since 1971. She has been Deputy Director of the Research Institute for Developing Countries, Warsaw School of Economics and a Fulbright scholar at the University of California, Berkeley. She held various posts in the Polish government before serving as minister for European Affairs (2003-2004), including as Poland's Chief Negotiator for accession to OECD and Economic Advisor to Polish president Aleksander Kwaśniewski.
She was Deputy Executive Secretary for the United Nations Economic Commission for Europe in 1998–2000 and then United Nations Under Secretary General and Executive Secretary, United Nations Economic Commission for Europe in 2000-2001. 
Beginning in 2004, Danuta Hübner worked for the European Commission and was appointed Commissioner for Regional Policy by President José Manuel Barroso. Between 2006 and 2007, she was a member of the Amato Group, working on rewriting the Treaty establishing a Constitution for Europe.
Évènements associés
Bruxelles - Weekly Seminar
On June 3rd, the GEG Weekly Seminar will discuss the European Parliament as an evolving institution, based on an interview with David Sassoli.
Partners: The College of Europe The European Institute at Columbia University The Europe Center at the University of Cambridge
en savoir plus