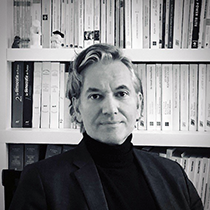 Professor at the College of Europe and the European Center of Sociology and Political Science at Paris 1 Panthéon-Sorbonne
Return to authors' list
Biography
Didier Georgakakis is Visiting Professor and Director of the General Studies Program at the College of Europe. He is Professor of Political Science at the University of Paris 1 – Panthéon Sorbonne and Jean Monnet Chair of Sociology of European Administration and Policies. 
His research focuses on the sociology of European institutions, the transformations of the European civil service, and more broadly on theories of European integration and transnational social fields.
Mr. Georgakakis is also Vice President of the Association Française de Science Politique and of the European Confederation of Political Science Associations. He is a founding member of the European Alliance for Social Sciences and Humanities, an organization representing the interests of the Humanities and Social Sciences at the European level. 
Related events
En ligne - Weekly Seminar
On May 27th, the GEG Weekly Seminar will discuss The European Commission as a political engine of integration, a conversation with Martin Selmayr and Frédéric Mérand
Partners: The College of Europe The European Institute at Columbia University The Europe Center at the University of Cambridge
Learn more