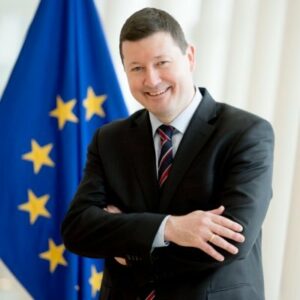 Head of the European Commission Representation in Vienna and former Secretary-General of the European Commission
Retour à la liste des auteurs
Biographie
Martin Selmayr is the European Commission's Ambassador to Austria. He has studied at the Universities of Geneva and Passau, at King's College in London, and at the University of California, Berkeley. He has a PhD in Law from the University of Passau. 
Martin Selmayr, a Commission official since 2004, became Jean-Claude Juncker's campaign director in 2014 and when Juncker was running as Spitzenkandidat for Commission President for the European People's Party (EPP). He was first appointed head of Juncker's transition team and then served as cabinet head from 2014 to 2018 before being appointed as Secretary General of the Commission by decision of the 27 members of the European Commission in 2018. Martin Selmayr has been described as one of the most influential figures within the European Union. 
For the past three decades, he has also been an academic; he is a very active professor of European Economic and Financial Law at the University of Sarrebruck, Director of the Centre for European Law at the University of Passau, and lecturer of EU Institutional Law as well as the Law of Economic and Monetary Union at Danube University in Krems (Austria). 
He is the author of numerous books on EU law and just published a first assessment of the political Commission led by President Juncker, edited by Robert Stüwe and Thomas Panayotopoulos (The Juncker Commission. Politicizing EU Politics, Nomos, Baden-Baden 2020). In this debate, Martin Selmayr speaks in a personal and academic capacity, without necessarily representing the official view of the Commission.
Évènements associés
Bruxelles - Weekly Seminar
On May 27th, the GEG Weekly Seminar will discuss The European Commission as a political engine of integration, a conversation with Martin Selmayr and Frédéric Mérand
Partners: The College of Europe The European Institute at Columbia University The Europe Center at the University of Cambridge
en savoir plus