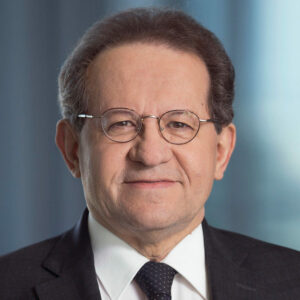 Former Vice-President of the European Central Bank
Retour à la liste des auteurs
Biographie
Vítor Constâncio is Professor at the School of Economics & Business Administration of the University of Navarra in Madrid. He served as Vice-President of the European Central Bank from 2010 to 2018. 
Between 1974 to 1975, Constâncio was Secretary of State for Budget and Planning and Finance Minister in 1978 in the Portugese government. He served as secretary-general of the Portugese Socialist Party from 1986 to 1989 and as governor of the Banco de Portugal, the Portuguese central bank in 1981-1984, in 1985-1986, and again from 2000 to 2010. From 1995 to 1999, Constâncio was a member of the Portuguese Council of State and served as Executive Director of the Banco Português de Investimento (BPI).
Vítor Constâncio's academic career includes appointments as Guest Senior Professor of Economics at the Instituto Superior de Economia e Gestão, Assistant Professor at the Lisbon School of Economics and Management (ISEG), and President of the School Board at ISEG. Since 2019 he is Distinguished Fellow at the Center for Economic and Policy Research (CEPR).
He obtained his licenciatura in Economics at the Instituto Superior de Ciências Económicas e Financeiras (the former name of ISEG business school) of the Technical University of Lisbon. 
Évènements associés
Bruxelles - Weekly Seminar
On May 20th, the GEG Weekly Seminar will discuss Olivier Blanchard and Jean Pisani-Ferry's policy paper A Contingent Economic Strategy for the Next Phase.
Partners: The College of Europe The European Institute at Columbia University The Europe Center at the University of Cambridge
en savoir plus