Géopolitique, Réseau, Énergie, Environnement, Nature
Peace-building in the age of wartime ecology
Issue #2
Scroll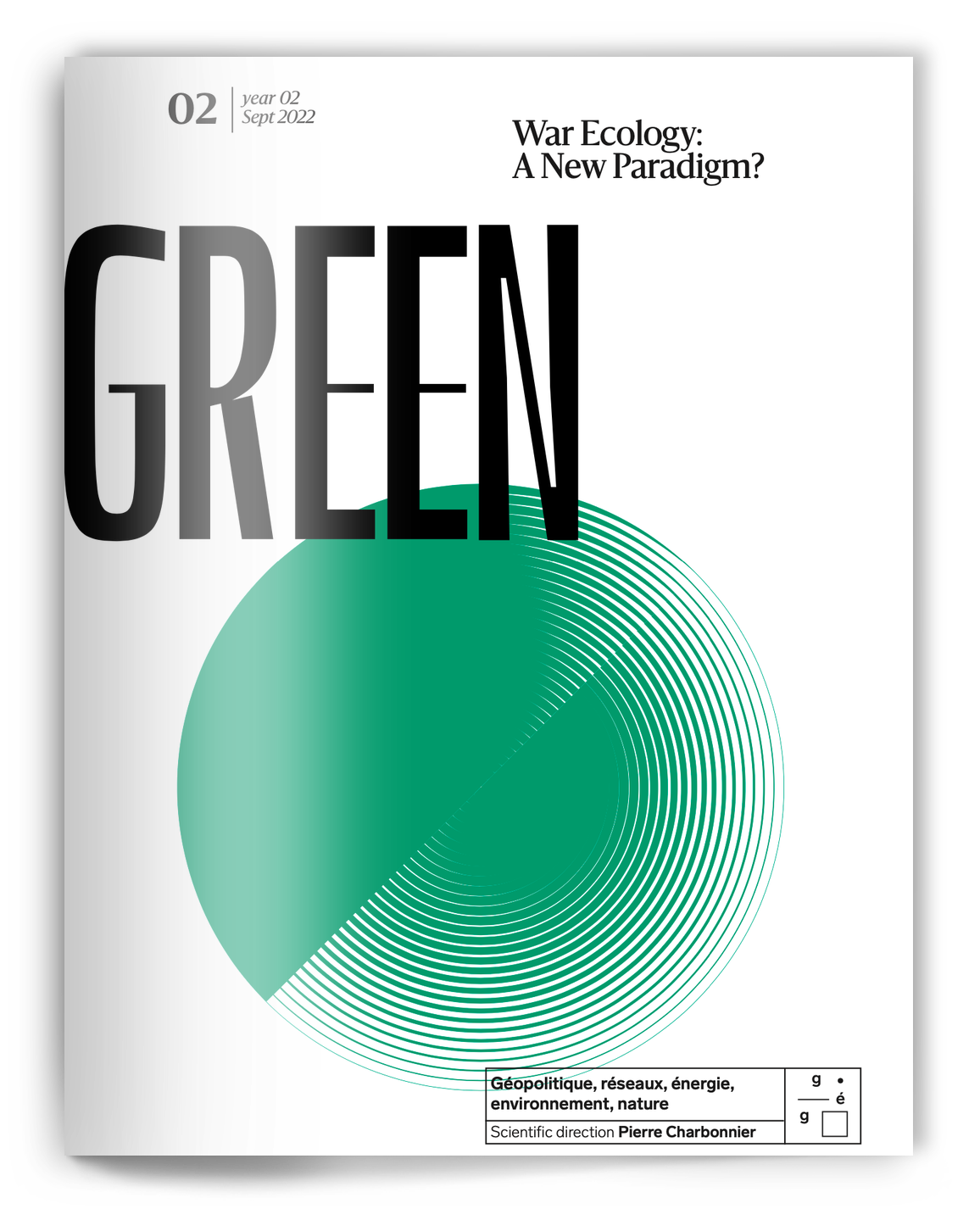 21x29,7cm - 91 pages Issue #2, September 2022
War Ecology: A New Paradigm
The invasion of Ukraine by Russia brings together a range of security issues: energy, military, finance, food, climate, etc.
These fields, which are usually addressed separately, can no longer be treated as such, given the depth with which this crisis aggravates all these factors beyond the conflict itself. Soaring energy and commodity prices, inflation that seriously threatens households, a debt servicing ratio that is reaching dangerous levels for many countries, the threat of an economic recession, the reorientation of the multilateral system driven by Cold War dynamics … the European response has been to tie the climate imperative to energy security through the "RePowerEU" 1 plan, by accelerating the transition away from fossil fuels — primarily Russian fossil fuels — by 2027 at the latest.
But this convergence is above all a convergence of crises and also narrows the field of action, even as the physical impacts of climate change are already becoming violently apparent at almost 1.2°C of warming. Without decarbonization, the future promises ever mounting turbulence in the form of increased climate impacts, economic contraction, diplomatic and financial retreat, and unprecedented conflict and humanitarian crises. Little by little, these predicted shocks will rob us of the tools to deal with them.
This new convergence of crises is still in need of a prism capable of mobilizing governments and the multilateral system in a common direction, which is the Paris Agreement. Climate action was built in another era, one that was obviously more conducive to multilateral progress. The year 2015 was also the year in which the United Nations' Sustainable Development Goals were ratified, as well as the Joint Comprehensive Plan of Action on Iran's nuclear program.
How, then, can we protect the climate today within a profoundly different geopolitical trajectory — whether we view it as de-globalization or, in a more nuanced way, as "geo-economic fragmentation" 2 , to borrow Kristalina Georgieva's expression?
Green Deal diplomacy in the age of wartime ecology
In the very notion of the new "war ecology", as Pierre Charbonnier so richly describes 3 , we understand that this new ecological imperative brought about by the Russian invasion is not necessarily conducive to diplomacy and cooperation. This imperative carries a risk of being invalidated or diverted in favor of energy security and the search for alternative sources of fossil fuels at all costs, as these energy sources have suddenly found renewed legitimacy. Wartime ecology could be a trap for the European Green Deal.
As the reaction of European institutions and member states shows, the so-called "war ecology" indeed has a strong unifying capacity, a wide range of actions, and a polysemy of (often) legitimate stakes, all of which are intended to accelerate ecological action. But it also tacitly encourages the blending and merging of objectives (isolating Russia, achieving energy autonomy…) and time frames (heating ourselves/staying warm this winter, reducing our emissions by 55% by 2030…), at a rhythm that our institutions are losing control over.
In this sense, the climate imperative has been distorted by the prism of wartime ecology. From energy security to agriculture as a strategic foundation, the European Green Deal is being refracted into distinct fields. This relegates its main objective — to succeed in decarbonization and, through a ripple effect, to increase the likelihood of decarbonization of the entire planet — to the background, or even to the status of an externality.
But the climate issue is about protecting a global public good. This challenge is of a magnitude that no amount of conflict or attrition can incorporate, since zero-sum games have no place in climate protection.
Moreover, it is obvious that this new paradigm of wartime ecology is sui generis to Europe's leadership in climate governance as it has been organized to date. As a matter of fact, the European Union, through the precision of its commitments, has been leading the way for years in terms of climate ambition and has been a key interlocutor for China, the United States, and the G20 on issues of greenhouse gas reduction and the objectives enshrined in the Paris Agreement. This is the role that Putin is targeting today, as this commitment would permit Europe to carry the multilateral system beyond the era of fossil fuels, which would ultimately deprive Russia of 70% of its gas, oil and coal export market, its largest source of income.
In addition to asserting Russian sovereignty in its self-proclaimed sphere of influence, the invasion is imposing terribly difficult and divisive energy choices on European states, as evidenced by Hungary's position on the invasion and the exceptions granted to it under the embargo on Russian oil imports. For its part, France became the world's largest buyer of Russian liquefied natural gas since the beginning of the war.
And yet, Europe's resilience in the face of these daily contradictions also shows us the Green Deal's contribution to European stability today. It recalls the Green Deal's resilience to the economic shock of the pandemic: one-third of the NextGenerationEU stimulus package, or €800 billion, was dedicated to it. It is difficult to imagine the geopolitical upheaval the Russian aggression would have triggered if Europe did not have a clear, credible and financed framework and roadmap for fossil fuel divestment. The magnitude of the impact would have been completely different.
It is still possible to overcome this magnitude of change. In the final lines of his text, Pierre Charbonnier rightly concludes that,
"inventing a model of development, cooperation and civic construction that integrates the planetary imperative with the game of geopolitical rivalries depends on Europe's ability to not fall entirely under the influence of Putin's totalitarian model."
To begin with, the Green Deal has an internal issue at stake. In France, as in Hungary and many other countries, far-right populist movements give ground to the Kremlin's geopolitical agenda. It is essential to counter these populist trends by successfully establishing a new social contract 4 through the Green Deal, and it is legitimate to use the devices or the rhetoric of the war context, particularly in order to encourage historic efforts towards energy sufficiency and independence.
On the other hand, the climate imperative must never be subjugated to Russia's geopolitical games. For a long time, the Russian discourse has been one of denial and doubt over climate action. Now it intends to use the present convergence of crises to blame a European policy that, in the words of Vladimir Putin, has caused inflation in part because it has "blindly bet everything on renewable energies". The aim of this cynical discourse, addressed to the rest of the world, is to isolate Europe in its support for Ukraine. In addition to this, Russia supports European populist movements that make climate denial a mark of identity.
Yet, for Ukraine as well as for the climate, Europe cannot go it alone. Here we see the existential necessity for Europe to succeed in a real diplomatic transformation within the framework of the Green Deal.
This ambition of a great climate diplomacy is embedded in the philosophy behind the Green Deal. It has now been reaffirmed and explicitly reframed by the Russian aggression. Representing the positions of the Commission and the European Investment Bank, Josep Borrell and Werner Hoyer published an opinion piece on this subject following the outbreak of the war 5 , highlighting the fact that it "has reinforced the strategic logic" for all countries to move away from fossil fuels. This conclusion, they say, will drive Europe's international investment choices.
In other words, by anchoring and enriching climate action, Russia's gamble will be emptied of its purpose and replaced by a new geopolitics — that of renewable energy. The diplomacy of the Green Deal will be seen as a peace deal. But if the war has reinforced this imperative, the international reaction to the invasion shows that this will be a difficult message for Europe to convey.
The Green Deal against the new non-alignment
The Russian invasion is the most violent transgression of state sovereignty since the American invasion of Iraq in 2003. This observation, via shortcuts of Western alliances and Cold War histories, facilitates a kind of equivalence that favors ambiguity and non-alignment on the part of many states around the world with respect to Ukraine.
This weakens the hope for a quick resolution of the conflict, humanitarian support for the Ukrainians, and weakens European diplomacy as a whole. Despite its proximity and horror, the conflict in Ukraine is critical not because it is in the West, as some believe, but because it mobilizes the major powers to become the most important determinant of global security — not only in the nuclear field, but also in the climate field.
Yet this non-alignment also reveals the enormous deficit of trust and goodwill that European diplomacy has created over the last few years, particularly with regard to African countries. Missed deadlines for climate financing, the brutal management of migration policies, debt, failure to share the intellectual property of vaccines… the communiqué from the summit between the African Union and the European Union, held on the eve of the invasion and 18 months late because of Covid, has the appearance of a "reset" on all these thorny preliminary issues, but makes no mention of the hundreds of thousands of Russian forces massed on the Ukrainian borders. A chasm of the unspoken, which has since threatened to widen.
Since the invasion, the General Assembly of the United Nations has on three occasions held votes on the invasion of Ukraine. Three times this non-alignment has been made evident. On March 2, a resolution condemning the invasion, while supported by 141 states, saw key European partners abstain including — and particularly important for the climate — China and India. Half of the African countries, including South Africa, also failed to support the resolution, either by abstaining or by being absent 6 .
As the conflict continues, the multilateral system is seeing a deepening of this support for Russia. On April 7, the day when the mass executions of civilians in the town of Bucha were revealed, a vote in the General Assembly to eject Russia from the Human Rights Council revealed this stark contrast: 93 states in favor, 58 abstentions and 24 against. Nearly half the states, in one way or another, did not wish to support this form of condemnation.
Of course, these votes are above all an affront to peace in Ukraine and the protection of Ukrainians. This was not a climate issue. But this shows – if it were necessary – that moral force or the proof of abuses alone will not delegitimize the Kremlin's gambit in the eyes of the world. This dangerous dynamic threatens to fragment the multilateral system at the most decisive moment for climate action, just when the IPCC gives us three years to implement global decarbonization with adequate momentum.
Energy partnerships amidst a background of tension
The Green Deal is currently the world's only instrument capable of breaking through this dynamic. Yet, among the states that voted against or abstained from this latest vote are partners that are essential to Europe's climate ambitions. One example in the Mediterranean region is Algeria and Morocco, two countries that are candidates for deeper partnerships with Europe, but which are finding new levers — energy — to establish their strategic ambiguity in response to the Ukrainian crisis. This example also highlights the extent of existing fault lines, in this case the Western Sahara issue.
A territory largely controlled by Morocco but not recognized by the European Union as belonging to it, and to which the United Nations has conferred the special status of "non-self-governing territory." It is the source of persistent and growing tensions with Algeria, which supports a separatist movement there. With diplomatic (and energy) ties severed, and with Algeria weaning itself from exporting gas to Morocco since last year, the situation is so serious that some analysts see the potential for an armed conflict between Africa's second and third largest military powers.
In March 2022, Morocco's announcement of a plan to grant Western Sahara some degree of autonomy was supported by European governments, with a commitment from Spain to compensate for the loss of Algerian gas, as well as the restoration of diplomatic relations with the new German government (after more than a year's freeze), which could herald the revival of an infrastructure project for the production and export of green hydrogen. This project was also halted last year when relations between Morocco and Europe were at their lowest.
This new and tentative reconciliation is clearly not enough to see Morocco support the European position on Ukraine, but it does indicate that solutions to Morocco's energy challenges are a compelling area for European diplomacy.
For its part, since the invasion, Algeria has signed deals with Italy to increase its gas exports and has threatened Spain with cutting off its gas supply because of its growing ties with Morocco. Algeria supplies more than ten percent of Europe's gas imports, and its main military partner for weapons is Russia, to which it also pledged — before the invasion — to become a major purchaser of wheat.
We see in Algeria's position this distinct desire for non-alignment. But we can see more broadly how the current confluence of crises makes the country vulnerable, whether to soaring food prices or to climatic impacts. A somber metaphor for this climatic-geopolitical juncture: last summer, in response to devastating forest fires that killed 90 people, Algeria purchased eight Russian water bombers.
Yet the proposals emerging from the current crisis demonstrate the possibilities for Green Deal diplomacy. The Italian think tank Ecco 7 , for example, has highlighted the great potential of a European partnership with Algeria and Egypt for an energy transition away from gas and towards renewables. Through its existing infrastructure, Algeria — whose energy system is 99% dependent on gas — could create tens of thousands of permanent jobs and diversify its energy infrastructure in a way that is compatible with the Paris Agreement while also generating significant revenue and meeting European gas needs during the transition. This is both desirable and necessary.
In this sense, it is good news that the European Commission's new partnerships with gas exporters, such as the recent agreement with Egypt, include a provision for investment in clean energy. This initiative is all the more valuable given that Egypt is hosting COP27 this year and is facing macroeconomic pressures that make it particularly vulnerable to the current convergence of crises, as explicitly recognized by the G7 in a June communiqué. This kind of initiative could be replicated by other countries, such as India with its "solar alliance," or China, which is working to make its Belt & Road Initiative investments more green.
South Africa, certainly the most vocal of the " non-aligned " countries today, is another glaring challenge. It is a partnership with which European climate diplomacy is most advanced and innovative, but one which the Ukrainian crisis gives a new dimension and an obligation to succeed.
South Africa is the country with which Europe (along with the United States and the United Kingdom) has developed the most concrete and precise "Just Energy Transition Partnership" (JET-P) for international cooperation to date. This partnership, whose first phase intends to channel $8.5 billion in funding, is designed to support the country's transition away from coal and, in particular, to focus on the communities most affected by the closure of this sector, as the extractive industries employ half a million people, 20% of them in coal.
The announcement of this partnership, unveiled at COP26 in Glasgow last year, was widely recognized as one of the highlights of that summit. It is a focused, coherent, and seemingly well-funded support package that has the potential to develop a strong base of expertise in energy transition that should serve as an example to the G20 and beyond, and quickly. However, the South African government and its president, Cyril Ramaphosa, are at the forefront of the non-aligned states, not only in their votes and their proposals for texts in the General Assembly, but also in a speech that blamed NATO for the Russian invasion.
It is obviously difficult for European diplomacy to accept such positions, as evidenced by the response of the European Union's ambassador to South Africa, Riina Kionka, after the first vote in the General Assembly. "We are still trying to understand," she said. "We are puzzled," she further told the local press, "because South Africa sees itself, and is seen in the world, as a country championing human rights, international law and the rule of law."
Beyond these predictable diplomatic postures, Europe must realize that it is difficult for South Africa to accept that their climate action will amount to nothing more than a new accumulation of debt to Western donors.
"I'm not negative about the opportunities that this money presents," South Africa's environment minister Barbara Creecy explained more recently, "but I am realistic that we have to look at it properly and we shouldn't rush when looking at it properly. There is a lot of skepticism out there that it's only loan financing, that it's going to worsen our sovereign debt situation."
In April, South Africa experienced devastating floods that killed hundreds and displaced tens of thousands. President Ramaphosa directly attributed these disasters to the climate crisis, and science proves him right. Beyond power relations, the urgency to act and the political will to do so are clearly there. It is up to European diplomacy to provide a financial package and a cooperative project that is attuned to the current convergence of crises, and therefore to concretely implement the €300 billion commitment allocated to the European Union's international "Global Gateway" infrastructure investment project.
The trajectory and progress of this partnership — as well as the expected announcement of other just energy transition plans with other candidate countries, such as Indonesia or India (both also non-aligned) — will be a critical test of Europe's ability to make the climate imperative prevail over Russia's geopolitical calculations.
In this area, Europe appears to be lagging behind, as evidenced by the "International Energy Strategy" launched at the same time as the RePowerEU plan to spell out the continent's new energy diplomacy. Whereas RePowerEU injects renewed political will into Europe's long-term climate goals, the international strategy appears more like a race against time to replace Russian gas with all new dependencies on other hydrocarbon exporters. The actions of some members, including Germany, further muddy the waters, as illustrated by German Chancellor Olaf Scholz's visit to Senegal, where agreements on new gas field exploration were reached without accompanying investment in renewables.
Given that fossil fuel projects span decades, mobilize huge amounts of capital, and require expensive infrastructure, it is difficult to see how such dependencies address the current crisis and provide security for Europe or the world. If these infrastructures are lasting, they lock us into long-term energy choices that will stymie the transition.
The European Union should instead look to its response to COVID and its vaccine procurement policy, and fully embrace the proposal to jointly procure non-Russian gas, so as to minimize the need for new infrastructure and avoid damaging competition between member states and potential exporters.
At the same time, the global rush towards gas is taking place at a time when some member states are also planning to extend the use of coal. Even if this is a temporary measure to mitigate the crisis, it is difficult to reconcile with our international rhetoric. Our international partners, especially those in the G20, take a very dim view of these decisions, all while Europe has further included gas financing in its taxonomy by categorizing them as "green" under certain conditions.
Furthermore, the European Union, although a leader in renewable energy subsidies, is much slower in reducing its support for fossil fuels. The 27 member states subsidize renewable energies at a cost of €78 billion compared to €56 billion for fossil fuels.
Climate and safety, a seldom considered prism
Despite these dangerous oversights, which underscore the inherent risks of fossil fuel geopolitics, the European Union remains a beacon of political will and institutional commitment to decarbonization. These crises are putting our institutions to the test, but they also give us insight. They reveal Europe's singular responsibility today to realize a vision of the world anchored in security and solidarity.
In the short-term, the greatest test — and the most serious manifestation of this maze of crises — will be the global food shortage predicted by all authoritative observers. According to the World Food Program, the number of food insecure people has doubled since 2019 from 135 million to 276 million, a trend already exacerbated by climate impacts on agricultural yields, protracted conflicts, and the pandemic's ongoing economic impacts.
Moreover, Russia and Ukraine supply almost 30% of the world market's wheat and barley, as well as three quarters of sunflower oil. Their food exports account for about 12% of all calories on the international market. The blockade of Ukraine's ports and the massive destruction of commodities by Russia have exacerbated tensions in the agricultural commodity markets.
The Russian war is having a domino effect on the rest of the world, particularly in terms of higher energy and food prices, and especially for the least developed countries that lack bargaining power. This is in addition to the string of record droughts since 2021 in several parts of the world, and the risk that producer countries will suspend exports. A number of countries in Africa and the Middle East, and others such as India, Serbia and (briefly) Indonesia have already resorted to embargoes. A devastating macroeconomic situation now exposes 1.6 billion people in 94 countries to food insecurity according to the United Nations and poses a clear risk of famine in many regions. These factors are reminiscent of the conditions that preceded the Arab Spring, but on an unprecedented scale. Revolts have already broken out in Ecuador and Sri Lanka.
Europe says it is already mobilized to respond to this crisis, although the institutional apparatus cannot fully compensate for a shock of this magnitude. In addition to the emergency measures that must be considered, the fundamental question that arises is this: what analysis and what tools would allow this convergence of crises to be more widely prevented rather than endured, at an inestimable human cost, and at the risk of further undermining the multilateral system?
Viewed over the long-term, the concept of "climate security" is proving to be the cornerstone of the system that must be thought through. The sophistication and precision of IPCC models of the physical impacts of global warming must revolutionize the way institutions grasp and operationalize this concept.
Yet the notions of "risk" and "security" as they appear in the climate governance system suffer from the outset because they lack a multilateral framework to address them. Although the conclusion of the Paris Agreement at COP21 in 2015 began to address this lack, translating the Agreement into commitments and actions for decarbonization by states — as well as financial markets, local authorities, and a constellation of other non-state actors — is a fluid and decentralized process.
Moreover, the very design of the Paris Agreement protects states' red lines on the preservation of their sovereignty, drawing on the failures of previous attempts to endorse climate targets, and relies on incentivizing decentralized momentum at all levels of action. The most sensitive and political issues, such as security issues, are therefore difficult to address within its framework. Added to this is a path dependency that privileges the reflection led by state and, in large part, military actors. In the run-up to COP21, a special "climate and security" conference organized by the French Ministry of Defense, was the first of its kind.
Among the impact factors usually included in these projections are natural disasters, drought, desertification, and food insecurity. These are all "variables" that could be described as conventional because they are understood to be "intensifiers" of scenarios that already dominate the diplomatic, humanitarian, and military crisis management apparatus of states, as they are already critical. In other words, they are problems where the multilateral system is already in a state of obvious failure.
Let us look at migration first. We know that each year since 2008, an average of 21.5 million people worldwide have been forced to leave their homes due to climate impacts. According to the World Bank's "best case scenarios", there could be as many as 216 million climate migrants from sub-Saharan Africa, South Asia, and Latin America by 2050.
Conflict adds to this as well. Last year, the United Nations High Commissioner for Refugees reported 82.4 million people displaced by conflict in Africa in 2021. The Institute for Economics & Peace estimates that there could be 1.2 billion displaced people in the world by 2050, due to the proliferation and intensification of conflicts caused by climate inaction.
The IPPC, for its part, does not have a mandate to provide such quantifiable cost simulations (whether human or financial), but its findings are no less alarming. With "high confidence", its latest report is unequivocal: "Climate hazards are a growing driver of involuntary migration and displacement (high confidence) and are a contributing factor to violent conflict (high confidence)."
For the reasons discussed, the multilateral system is struggling to formally address even these basic and immediate issues of security and conflict. We saw this in December 2021 at the Security Council when a resolution sponsored by Niger and Ireland on the importance of integrating climate risk into conflict prevention planning did not receive unanimous support. India and Russia were opposed while China abstained.
Although this issue by definition appears relevant to the Security Council's mandate, one of the main objections raised concerned the best multilateral framework to deal with it, while the United Nations Framework Convention on Climate Change (UNFCCC, under which the Paris Agreement was developed) could also be competent to do so. Furthermore, the recent IPCC report has been used as a pretext by Russia and India — as well as Brazil — to assert that the complex and non-linear links between climate and security established therein show (perversely) that it is not a matter of direct causality.
As such, Russia has warned the Security Council "against attempts to assert an inherent climate-security nexus", thereby rejecting the prospect of integrating climate with issues of war and peace. But for its part, the UNFCCC is in no way equipped to deal with them.
The tools of the multilateral system to deal with the complex links between climate and security are inadequate or non-existent. Whether it is the financial system, which is not responding to the need for investment, or the absence of a mechanism to anticipate and manage conflicts, when 50% of the countries most vulnerable to climate impacts are already gripped by armed conflicts. We could also mention emerging issues such as geoengineering.
Humanitarianism in the immediate future
Absent a rapid and successful overhaul of the multilateral system, European diplomacy can certainly do more to integrate climate and security issues by addressing immediate, relevant, and overarching humanitarian issues.
One example is health. The destruction of biodiversity favors the spread of zoonotic diseases, such as Ebola, COVID-19 and 60% of infectious diseases, 75% of which are of animal origin. Every year, five new diseases become transmissible to humans, a phenomenon that is expected to accelerate as humans continue to encroach upon and weaken ecosystems. The " One Health " concept, which links human, animal and ecosystem health, is gaining importance, especially among European health institutions. This is a trend that should be followed closely in diplomacy and cooperation as it underlines the clearly globalized dimension of any infectious disease today. The pandemic illustrated the extent to which these diseases can profoundly disrupt the multilateral system.
Food security is also concerned. The shocks once again affecting the global food system only confirm a trend. This is the third such crisis in 15 years. As the International Panel of Experts on Sustainable Food Systems recently pointed out, this is an inherent risk in a system that relies heavily on the import and export of food, where highly indebted and often food-insecure countries must export their agricultural yields to finance their debts, and where staple commodities are subject to excessive speculation on financial markets. European diplomacy could in particular act to prevent speculation and support the creation of regional grain reserves, as well as the diversification of food production and the adoption of agroecology.
Additionally, Europe could also provide humanitarian and medical solutions to food insecurity, particularly child malnutrition. There are solutions that are well known to those working in the field for protecting the first 1000 days of a child's life — through nutrition and vaccination, in particular — which could be extended with minimal investment. By contrast, the World Bank points out that malnutrition costs between 3% and 16% of GDP in certain countries, due to its devastating impact on the population, especially women and children.
Conclusion
Europe, in the throes of major turbulence and the return of tragedy to its soil, is meanwhile writing the first pages of the post-fossil era. In so doing, Europe intends to free itself from a geopolitics of hydrocarbons which, through the concentration of staggering earnings, is becoming an obstacle to the construction of democratic institutions and a proven factor in conflict.
By committing itself to a new geopolitics of renewable energies, Europe is also committing itself to economic perspectives which, given the current situation, appear even more compelling than they already were. Apart from the effect on reducing greenhouse gas emissions, renewable energy should also allow Europe to prevent the kind of out-of-control energy inflation that is currently being imposed by Russia.
But this new geopolitics will also be extractive, underpinned by a need for rare metals and minerals essential to solar, wind, geothermal, and electric vehicle infrastructure, such as cobalt, lithium, copper, zinc, and dozens of others. According to the International Energy Agency, the extraction rate of some of these raw materials will have to increase by as much as 44 times in many producer countries in order to meet market needs. According to the World Bank, the production of graphite, lithium, and cobalt will have to increase by up to 500% by 2050. The need to fully recycle these materials is therefore essential to avoid a new resource war.
As in any extractive industry, security issues are resurfacing due to the question of competition for access to resources. Analyses suggest that we will see a dynamic of dependence which — though it will generate tensions between states — will not generate the same degree of volatility, notably because expected revenues will be less disproportionate and trade of these raw materials will not allow states to establish the same continuous income dynamics, as oil and gas have done for decades.
These supply needs will tend towards the diversification of these value chains. For example, there is discussion of lithium mining in Serbia. But the mining company Rio Tinto and the government have recently faced massive opposition to such a project from local communities. Whereas in more geographically remote parts of Europe, the mining industry would certainly have imposed itself through corruption, force and abuse, here it must come to terms with a new situation. There is currently only one lithium mine in the European Union — in Portugal — but dozens of viable plans exist in Germany, Austria, Spain, Finland, Portugal and the Czech Republic.
The geopolitics of renewables will have to proceed within a regulated and proper framework or it will fail because these projects will be not only be rejected by those who are most affected — such as in Serbia — but also because it will see the renewable industry demonized in the eyes of citizens and consumers, which will profoundly undermine climate action as a whole. Thanks to existing European regulations, as well as multilateral initiatives such as the Extractive Industry Transparency Initiative, and respected certification bodies such as the Initiative for Responsible Mining Assurance, there is already a solid basis for Europe to operate within a transparent framework. Efforts in Europe to ensure traceability of timber imports and to combat deforestation should also serve as a benchmark. Finally, as with the issue of non-Russian gas purchases today, a common procurement policy would also allow Europe to establish new agreements within a coordinated framework that is less prone to tension or transgression.
Here again – and the example of Serbia, a candidate country for accession to the European Union, also demonstrates this – Europe must embrace the extent of its projection power and its capacity to become a bedrock of climate and human security for its own citizens, as well as those in the "neighbourhood" and those around the world.
Living up to these challenges also means keeping a promise to another EU candidate country: Ukraine.
If the Green Deal is successful in its plan for peace, we would be able to offer the Ukrainian people a future worthy of their courage and sacrifice.
Notes
Laurence Tubiana, Peace-building in the age of wartime ecology, Sep 2022, 19-27.
à lire dans ce numéro
+
--