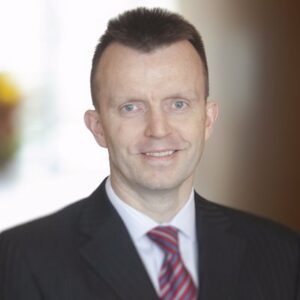 Resident senior fellow with the German Marshall Fund of the United States
Retour à la liste des auteurs
Biographie
Jacob Kirkegaard is Senior Fellow with the Peterson Institute for International Economics and the German Marshall Fund of the United States. Previously, he worked with the Danish Ministry of Defense, the United Nations in Iraq, as well as in the private financial sector. 
He holds a BA in Political Science from the University of Aarhus in Denmark, a master's from Columbia University in New York, and a PhD in Political Economy from Johns Hopkins University, School of Advanced International Studies. He also holds the rank of first lieutenant from the Royal Danish Army Specialist Training School.
Mr. Kirkegaard's research centers on European economies as well as structural and institutional reform, the macroeconomic impact of climate change and climate mitigation, U.S.- EU- China economic competition, immigration, foreign direct investment trends and estimations, fiscal and monetary policy, pension systems, and demographic trends. 
He is co editor of Transatlantic Economic Challenges in an Era of Growing Multipolarity (2012), author of The Accelerating Decline in America's High-Skilled Workforce: Implications for Immigration Policy (2007), coauthor of US Pension Reform: Lessons from Other Countries (2009) and Transforming the European Economy (2004), and assisted with Accelerating the Globalization of America: The Role for Information Technology (2006).
Articles associés
Rosa Balfour, Emil Brix, Maria Demertzis, Michel Duclos, Maya Kandel, Jacob Kirkegaard, Hans Kribbe, Charles Kupchan, Elena Lazarou, Bruno Macaes, Giovanna de Maio, Claudia Major, Laurence Nardon, Kristi Raik, Andrei Tarnea, Bruno Tertrais, Nathalie Tocci, Pierre Vimont
European Strategic Autonomy and the Biden Presidency
Some twenty international personalities from different backgrounds and sensibilities reflected on the impact of the Biden presidency on the future of European strategic autonomy.
lire l'article
Évènements associés
Bruxelles - Weekly Seminar
What could an attractive EU policy for STEM workers entail? A discussion about an innovative policy proposal: a European tech visa.
Partners: The College of Europe The European Institute (Columbia University).
en savoir plus