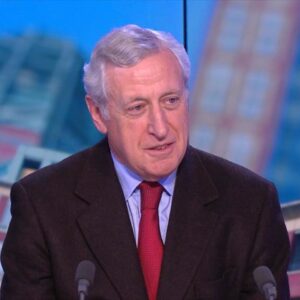 Ambassador to the United States from 2007 to 2010
Retour à la liste des auteurs
Biographie
Pierre Vimont is a Senior Fellow at the Carnegie Europe Foundation, former French Ambassador to the United States, and Executive Secretary General of the European External Action Service. He is also an Ambassador of France, a lifetime distinction.
Pierre Vimont's career spans nearly 40 years. He first worked as second secretary at the French embassy in London in 1977 – 1978 and then as first secretary from 1978 to 1981. From 1981 through 1985, he worked at the Press and Information department in Paris before joining the EastWest Institute in New York City from 1985-1986. Between 1986 to 1990, Mr. Vimont was the second councillor at the Permanent Representation of France at the European Community in Brussels. From 1990 – 1993, he was chief of staff to successive ministers of European affairs Édith Cresson and Élisabeth Guigou. He was then director for development and of scientific, technical, and educational cooperation (1993-1996), adjunct general director of cultural, scientific, and technical relations (1996-1997), and director of European cooperation (1997-1999). Between 1999 and 2002, he served as ambassador and permanent representative of France to the European Union in Brussels, followed by a position as chief of staff to three French Foreign Ministers, Dominique de Villepin (2002-2004), Michel Barnier (2004-2005) and Philippe Douste-Blazy (2005-2007). French President Nicolas Sarkozy appointed him as Ambassador to the United States in 2007 and in 2010 he was appointed as the first Executive Secretary General of the European External Action Service. 
In 2015 he was appointed Personal Envoy of the President of the European Council, Donald Tusk. In this capacity he led preparations for the Valletta Conference between EU and African countries which sought to tackle the causes of illegal migration and combat human smuggling and trafficking. Pierre Vimont also served as the special envoy for the French initiative for a Middle East Peace Conference in 2016. French President Emmanuel Macron then appointed him in 2019 as Special Envoy for the architecture of security and trust with Russia.
He holds degrees in law from the Institute of Political Studies, and is an alumnus of the Ecole Nationale d'Administration. He is also a chevalier of France's National Order of Merit.
Articles associés
Rosa Balfour, Emil Brix, Maria Demertzis, Michel Duclos, Maya Kandel, Jacob Kirkegaard, Hans Kribbe, Charles Kupchan, Elena Lazarou, Bruno Macaes, Giovanna de Maio, Claudia Major, Laurence Nardon, Kristi Raik, Andrei Tarnea, Bruno Tertrais, Nathalie Tocci, Pierre Vimont
European Strategic Autonomy and the Biden Presidency
Some twenty international personalities from different backgrounds and sensibilities reflected on the impact of the Biden presidency on the future of European strategic autonomy.
lire l'article
Alberto Alemanno, Anu Bradford, Thierry Chopin, Caroline de Gruyter, Daniel Fiott, Ulrike Guérot, Benjamin Haddad, Pierre Haroche, Yannis Koutssomitis, Ivan Krastev, Hans Kribbe, Charles Kupchan, Brigid Laffan, Bruno Macaes, Jean-Dominique Merchet, Joseph Nye, Simone Tagliapietra, Nathalie Tocci, Tara Varma, Nicolas Véron, Pierre Vimont, Cornelia Woll, Charles Wyplosz
European Strategic Autonomy in 2020
In the heat of 2020, in order to take stock and set the course, we asked some twenty world figures to answer the question: is the Union becoming more strategically autonomous?
lire l'article
Évènements associés
Bruxelles - Weekly Seminar
On November 4th, the GEG Weekly Seminar will discuss on the state of transatlantic relations following the withdrawal of Afghanistan and the AUKUS alliance. The discussions will be...
Partners: The College of Europe, The European Institute at Columbia University, The Europe Center at the University of Cambridge, The School of Transnational Governance at the European University Institute
en savoir plus
Bruxelles - Weekly Seminar
On April 22nd, the GEG Weekly will discuss Luuk van Middelaar's vision of a geopolitical Europe. This conversation will be based on an exclusive paper following Luuk van...
en savoir plus