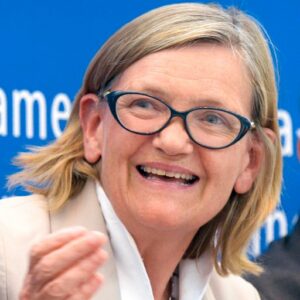 Director and Professor at the Robert Schuman Centre for Advanced Studies and Director of the Global Governance Programme at the European University Institute (EUI), Florence
Return to authors' list
Biography
Brigid Laffan is Director and Professor at the Robert Schuman Centre for Advanced Studies and Director of the Global Governance Programme at the European University Institute (EUI) in Florence, Italy. 
Professor Laffan's career has spanned over three decades, beginning with a position as Research Co-ordinator on a project on regional integration at the College of Europe in Bruges in 1976. She has subsequently held posts as a Lecturer at the University of Limerick, at the Institute of Public of Administration (IPA) in Dublin, and at the School of Politics and International Relations (SPIRe) at the University College Dublin (UCD). From 1999 to 2004, she was founding director of the Dublin European Institute UCD. From 2004 until 2011, she was Vice-President of UCD and Principal of the College of Human Sciences. She has held her current position at EUI since 2013.
Her research focuses on the dynamic of European integration and particularly differentiated integration. She has published 10 books and over 35 journal articles and been the recipient of numerous awards and recognitions including the Chairman's Award for Distinguished Graduates from the University of Limerick in 1991, being elected Member of the Royal Irish Academy (RIA) and in 2010, the Ordre nationale du Mérite from the President of the French Republic, and the Lifetime Achievement Award for contribution to the development of European Studies in 2014 by the UK Association for Contemporary European Studies (UACES). She has been ranked among the women who shape Europe by POLITICO. She is a founding member of the Institute for International and European Affairs (IIEA) in Dublin.
Related articles
Alberto Alemanno, Anu Bradford, Thierry Chopin, Caroline de Gruyter, Daniel Fiott, Ulrike Guérot, Benjamin Haddad, Pierre Haroche, Yannis Koutssomitis, Ivan Krastev, Hans Kribbe, Charles Kupchan, Brigid Laffan, Bruno Macaes, Jean-Dominique Merchet, Joseph Nye, Simone Tagliapietra, Nathalie Tocci, Tara Varma, Nicolas Véron, Pierre Vimont, Cornelia Woll, Charles Wyplosz
European Strategic Autonomy in 2020
In the heat of 2020, in order to take stock and set the course, we asked some twenty world figures to answer the question: is the Union becoming more strategically autonomous?
Read the article
Related events
En ligne - Weekly Seminar
On 4th March, we will discuss a working paper, "EU crisis and reform: is differentiated integration the answer?", written by Frank Schimmelfennig, Professor of European Politics at ETH...
Learn more