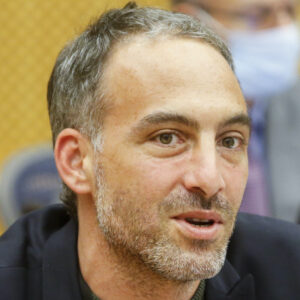 Member of the European Parliament
Raphaël Glucksmann is a member of the Group of the Progressive Alliance of Socialists and Democrats in the European Parliament, MEP since July 2019.
Return to authors' list
Biography
Raphaël Glucksmann is Chairman of the Special Committee on Foreign Interference in the European Union's democratic processes since September 2020, Vice-Chairman of the European Parliament's Subcommittee on Human Rights since July 2019 and MEP since July 2019. He is a graduate of the Institute of Political Studies in Paris.
Related articles
Francesco Martucci, Guy Canivet, Sergio Fabbrini, Signe Rehling Larsen, Marlene Wind, Bruno Lasserre, Étienne Pataut, Arancha Gonzalez Laya, Pierre Moscovici, Pascal Lamy, Didier Reynders, Jean-Claude Juncker, Gilles Briatta, Peter Chase, Laurent Cohen-Tanugi, Hubert Tardieu, Joëlle Toledano, Philippe Dupichot, Jacques-Philippe Gunther, Pedro Gustavo Teixeira, Brad Smith, Professor Dr. Danny Busch, Suzanne Kingston, Corinne Lepage, Tímea Drinóczi, Jacques Toubon, Evangelia Lilian Tsourdi, Raphaël Glucksmann, Gilles Gressani, Hugo Pascal, Joachim-Nicolas Herrera, Vasile Rotaru, Pierre Sellal
The groundwork of European power
Read the article
Related events
Bruxelles - Weekly Seminar
On March 31st, the GEG Weekly Seminar will discuss Europe's relationship with the notion of power and its ability to speak the language of power politics. The starting...
Partners: The College of Europe, The European Institute at Columbia University, The Europe Center at the University of Cambridge, The School of Transnational Governance at the European University Institute, Institut d'études européennes of the Université libre de Bruxelles
Learn more