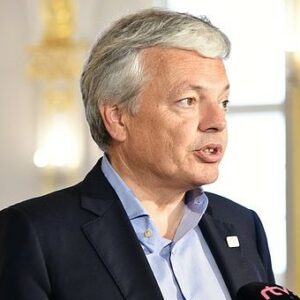 European Commissioner for Justice
Didier Reynders is the former Minister of Finance of Belgium and is European Commissioner for Justice since Dec.
Retour à la liste des auteurs
Biographie
Didier Reynders is a graduate of the University of Liege. He is European Commissioner for Justice since 2019 he was Deputy Prime Minister between 2004 and 2019, Minister of Foreign and European Affairs, and Minister of Defense of Belgium between 2018 and 2019, Minister of Foreign and European Affairs between 2014 – 2018, member of the Communal Council of Uccle between 2012 and 2018, Minister of Foreign Affairs, Foreign Trade and European Affairs between 2011 and 2014, Minister of Finance between 1999 and 2011, Minister in charge of the National Lottery, the Federal Holding and Investment Company and Insurance Companies between 2007 and 2011, Minister of Institutional Reforms between 2004 and 2011, member of parliament between 1992 – 2019 and Chief of Staff of the Deputy Prime Minister, Minister of Justice and Institutional Reforms.
Articles associés
Francesco Martucci, Guy Canivet, Sergio Fabbrini, Signe Rehling Larsen, Marlene Wind, Bruno Lasserre, Étienne Pataut, Arancha Gonzalez Laya, Pierre Moscovici, Pascal Lamy, Didier Reynders, Jean-Claude Juncker, Gilles Briatta, Peter Chase, Laurent Cohen-Tanugi, Hubert Tardieu, Joëlle Toledano, Philippe Dupichot, Jacques-Philippe Gunther, Pedro Gustavo Teixeira, Brad Smith, Professor Dr. Danny Busch, Suzanne Kingston, Corinne Lepage, Tímea Drinóczi, Jacques Toubon, Evangelia Lilian Tsourdi, Raphaël Glucksmann, Gilles Gressani, Hugo Pascal, Joachim-Nicolas Herrera, Vasile Rotaru, Pierre Sellal
The groundwork of European power
lire l'article
Évènements associés
Bruxelles - Weekly Seminar
On February 24th, the GEG Weekly Seminar will discuss the challenges to the rule of law in Europe. The starting point for this discussion will be an interview conducted...
Partners: The College of Europe, The European Institute at Columbia University, The Europe Center at the University of Cambridge, The School of Transnational Governance at the European University Institute, Institut d'études européennes of the Université libre de Bruxelles
en savoir plus