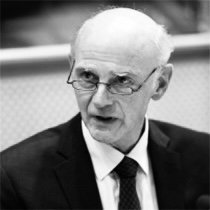 Senior Fellow at the German Marshall Fund
Retour à la liste des auteurs
Biographie
Peter Chase is currently a Senior Fellow with the German Marshall Fund in Brussels, where he focuses on transatlantic and international economic policy issues, including in particular with respect to trade, investment, regulatory cooperation and digital policy issues.
He became a full-time resident at GMF in May 2016, after leaving the U.S. Chamber of Commerce, where he had been for six years its Brussels-based Senior Representative in Europe; he was Vice President for Europe between July 2012 and his departure in February 2016.
After joining the Chamber in April 2010, Mr. Chase played a critical role in the Chamber's campaign to launch U.S.-EU negotiations toward an ambitious free trade agreement, including funding an initial study to demonstrate the benefits of merely eliminating tariffs and helping convince the European business community to support the effort; this led to the formal launch of the Transatlantic Trade and Investment Partnership (TTIP) talks in July 2013. Mr. Chase is widely recognized for his expertise on virtually all aspects of the proposed agreement, including in particular the regulatory and investment issues. He has also led much of the Chamber's work in Europe on energy, capital markets regulation, digital policy issues and EU economic relations with third countries, notably China and Russia.
Prior to joining the Chamber, Mr. Chase had more than 30 years of economic, trade and investment policy experience in the U.S. Department of State. The last 20 years focused largely on transatlantic economic relations. He was Minister-Counselor for Economic Affairs at the U.S. Mission to the European Union (USEU) from 2007-2010; Director of the Office of EU Affairs at the State Department 2004-2007; Chief of Staff to the Under Secretary for Economic Affairs 2001-2003; Counselor and Minister-Counselor for Economic Affairs at the U.S. Embassy in London 1997-2001; and Financial Officer and Counselor for Economic Affairs at USEU 1992-1996. Prior to this last assignment, Mr. Chase was posted for two years as Director for Investment Affairs at the Office of the U.S. Trade Representative from 1990-1992; he also served between 1988 and 1990 as Legislative Assistant for Economic and Foreign Policy Affairs with Senator Bill Bradley (D-NJ).