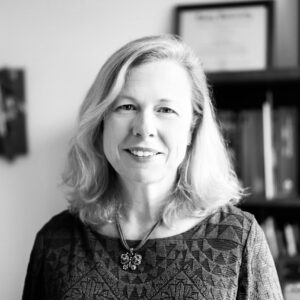 Executive Director of the Georgetown Climate Center
Retour à la liste des auteurs
Biographie
Vicki Arroyo is the Executive Director of the Georgetown Climate Center based at Georgetown University Law Center, where she is also a Professor from Practice. Professor Arroyo serves as Special Advisor to the President of Georgetown University, and was previously Law Center's Assistant Dean of Centers and Institutes.
Professor Arroyo oversees the Georgetown Climate Center's work at the nexus of climate and energy policy, supervising staff and student work on climate mitigation and adaptation at the state and federal level. She teaches "experiential" environmental law courses to both law and public policy students. She is also a member of the faculty steering committee for the Georgetown Environment Initiative, a cross-campus effort to advance the interdisciplinary study of the environment in relation to society, scientific understanding, and sound policy.
Professor Arroyo currently serves as Chair of the Executive Committee of the National Transportation Research Board (TRB) of the National Academy of Sciences and chaired TRB's Resilience and Sustainability Task Force. She serves on the Board of Advisors of the Institute of Transportation at UC Davis, and has testified before the House Committee on Transportation and Infrastructure and the Senate Committee on Environment and Public Works on steps that states and cities are taking to reduce greenhouse gas pollution from transportation and to make communities more resilient to the serious consequences of climate change. In 2018, Professor Arroyo was elected to the American College of Environmental Lawyers (ACOEL).
She holds a B.S. in biology, high honors, from Emory (double major in philosophy); a Masters of Public Administration from Harvard (receiving the Don K. Price award for academic achievement and commitment to public service, the top honors in her program), and a J.D., magna cum laude, from Georgetown Law, where she was Editor-in-Chief of The Georgetown International Environmental Law Review.