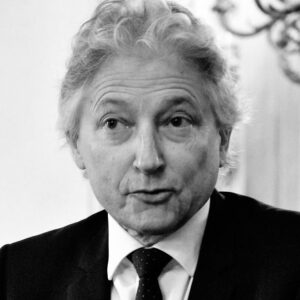 French jurist and professor of constitutional law
Retour à la liste des auteurs
Biographie
Dominique Rousseau is a French jurist and professor of constitutional law, former member of the French Conseil supérieur de la magistrature from 2002 to 2006. He was appointed co-director of the Sorbonne Law School in October 2013 and director of the UMR 8103 of Comparative Law at the University of Paris 1 Panthéon-Sorbonne in September 2014. He is a professor there until 2019. He is also a member of the Constitutional Court of the Principality of Andorra since April 2016.
His publications focus mainly on constitutional litigation and the notion of democracy. 
Honorary member of the Institut universitaire de France, he created and directed the Centre d'études et de recherches comparatives constitutionnelles et politiques (CERCOP) from 1987 to 2010. He was an expert for the French Agency for the Evaluation of Research and Higher Education and a member of the Superior Council of the Judiciary from 2002 to 2006. He is President of the Scientific Council of the Association française des constitutionnalistes (AFDC), member of the Scientific Council of the International Academy of Constitutional Law, member of the Editorial Board of the Revue du droit public, editorial advisor to Éditions Odile Jacob, and collection director at Éditions Lextenso.