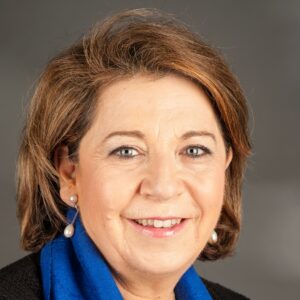 Lawyer, Co-Chair of the MENE
Corinne Lepage is a lawyer, doctor of law, former Minister of the Environment (1995-1997) and former MEP (2009-2014).
Retour à la liste des auteurs
Biographie
Corinne Lepage has a doctorate in law and specializes in environmental law, energy and environmental health issues. She is a co-founder of Huglo Lepage, a law firm specializing in major pollution cases and natural and industrial disasters. She has held numerous public positions. She was a member of the Conseil de l'ordre and Secretary of the Conseil (1987-1990), then Minister of the Environment (1995-1997) as well as Deputy and then First Deputy Mayor of Cabourg (1989-2001), and MEP (2009-2014). She lectures in very large companies on the evolution of climate and environmental issues linked to economic issues.
Articles associés
Francesco Martucci, Guy Canivet, Sergio Fabbrini, Signe Rehling Larsen, Marlene Wind, Bruno Lasserre, Étienne Pataut, Arancha Gonzalez Laya, Pierre Moscovici, Pascal Lamy, Didier Reynders, Jean-Claude Juncker, Gilles Briatta, Peter Chase, Laurent Cohen-Tanugi, Hubert Tardieu, Joëlle Toledano, Philippe Dupichot, Jacques-Philippe Gunther, Pedro Gustavo Teixeira, Brad Smith, Professor Dr. Danny Busch, Suzanne Kingston, Corinne Lepage, Tímea Drinóczi, Jacques Toubon, Evangelia Lilian Tsourdi, Raphaël Glucksmann, Gilles Gressani, Hugo Pascal, Joachim-Nicolas Herrera, Vasile Rotaru, Pierre Sellal
The groundwork of European power
lire l'article