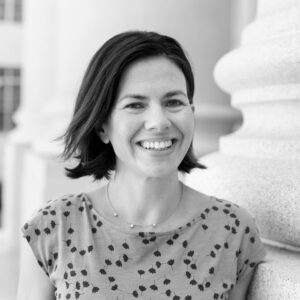 Tragen Professor of Law, and Co-Director, Miller Center for Global Challenges and the Law, UC Berkeley
Retour à la liste des auteurs
Biographie
Katerina Linos teaches international business transactions, international law, European Union law, and international organizations.
She is best known for her research on the diffusion of ideas around the world. Her book "The Democratic Foundations of Policy Diffusion: How Health, Family and Employment Laws Spread Across Countries(opens in a new tab)" won three national awards. She documents that laws don't spread only through expert networks, but also through popular movements. Politicians can win elections by advocating for tried-and-true, mainstream models. Therefore, the same law is often adopted around the world, even in countries for which it is a poor fit.
Linos also studies how information and misinformation shape refugee and migration law.  Through a Carnegie fellowship(opens in a new tab), she studied how government and international organization reticence allows for misinformation(opens in a new tab) to spread among migrants, opening up space for rights violations and smuggling. In Digital Refuge(opens in a new tab), Linos presents the European refugee crisis from the perspective of migrants, drawing on thousands of interviews and Facebook posts. In Responsibility Sharing or Responsibility Dumping?(opens in a new tab) she evaluates both progressive and conservative innovations in refugee law.
Linos has researched how the media translate US Supreme Court(opens in a new tab) opinions; how public opinion cleavages(opens in a new tab) form around the world; how the European Union influences legislation not only through compliance(opens in a new tab) mechanisms, but also through diffusion(opens in a new tab) processes; and how UN General Assembly(opens in a new tab) templates shape the design of institutions around the world.
Linos' research is empirical and focused on developing and applying new qualitative(opens in a new tab) and quantitative(opens in a new tab) methods. Her work appears in leading law reviews and peer-reviewed journals, including the American Journal of International Law, the American Journal of Political Science, the American Political Science Review, the California Law Review, the Chicago Law Review, Comparative Political Studies, the European Sociological Review, and International Organization. Linos is the host of the international law podcast Borderlines.
Articles associés
José Manuel Albares, Luis Arroyo Zapatero, Elena Baylis, Nicole Belloubet, Régis Bismuth, Josep Borrell Fontelles, Leanna Burnard, Elisenda Calvet-Martínez, Bernard Cazeneuve, Elena Chachko, Federica D'Alessandra, François Hollande, Katerina Linos, Alexandre Mennucci, Anton Moiseienko, Erin Mooney, Mira Naseer, Hugo Pascal, Alain Pellet, Anne Peters, Pietro Pustorino, Jean-Marc Sorel, Bernard Stirn, Didier Rebut, Vasile Rotaru, Jorge E. Viñuales
War
lire l'article