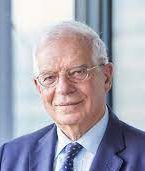 High Representative of the European Union for Foreign Affairs and Security Policy
Retour à la liste des auteurs
Biographie
Josep Borrell Fontelles is the EU High Representative for Foreign Affairs and Security Policy and Vice-President of the European Commission. He was President of the European Parliament from 2004-2007.
Before entering politics, Mr. Borrell was professor and Chair of Economic Analysis at the Faculty of Economics of the Complutense University of Madrid. He was first elected as a city councilor in 1979. In 1982, he became Minister of Economy and Finance until 1984 before being appointed as Secretary of State for Finance (1984–1991). From 1991 until 1996, he was Minister of Public works, Transport, Telecommunications and the Environment. He was a member of the Spanish Parliament until 2003. He then served as Chair of the Committee on Development (2007-2009), President of the European University Institute in Florence (2010-2012), Jean Monnet Chair of European Economic Integration at Complutense University of Madrid (2013-2016), Minister of Foreign Affairs for the European Union and Cooperation with Spain (2018-2019).
Mr. Borrell has received numerous honors, among them the French Légion d'honneur in 2015, the Spanish Medal of the Order of Constitutional Merit in 2011, and the Grand Cross of the Order of the Sun of Peru in 2019.
He holds a degree in Aeronautical Engineering, a Master's degree in Energy Economics from the Institut Français du Pétrole in Paris, a Master's degree in Operations Research from Stanford University in California, and a Doctorate in Economic Sciences.
Évènements associés
Bruxelles - Weekly Seminar
On April 29nd, the GEG Weekly Seminar will discuss Josep Borrell's book European Foreign policy in times of Covid-19. For this exceptional session, Groupe d'études géopolitiques has organised...
Partners: The College of Europe The European Institute at Columbia University The Europe Center at the University of Cambridge
en savoir plus