Revue Européenne du Droit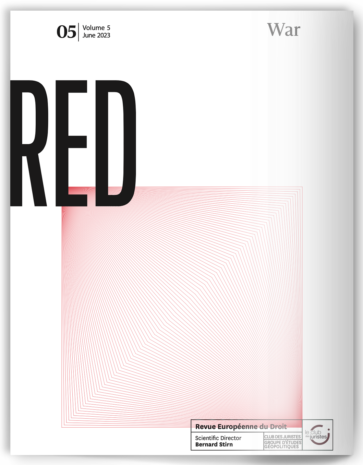 War
Legal Journal published by the Groupe d'études géopolitiques in partnership with Le Club des juristes
War
Scientific Committee
Alberto Alemanno, Luis Arroyo Zapatero, Frédéric Baab, Emmanuelle Barbara, Gilles Briatta, Guy Canivet, Laurent Cohen-Tanugi, Pavlos Eleftheriadis, Jean-Gabriel Flandrois, Emanuela Fronza, Aurélien Hamelle, Astrid Mignon Colombet, Nicolas Molfessis, Pierre-Louis Périn, Sébastien Pimont, Pierre Sellal, Pierre Servan-Schreiber and Jorge E. Viñuales.
Editors-in-chief
Hugo Pascal and Vasile Rotaru
Editorial Managers
Gilles Gressani and Mathéo Malik
Editorial Comittee
Joachim-Nicolas Herrera (dir.), Anda Bologa, Dano Brossmann, Jean Chuilon-Croll and Francesco Pastro.
Le comité scientifique
fermer
Le comité scientifique
fermer