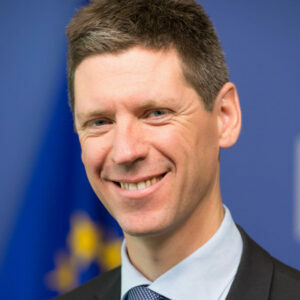 Director General at the DG Economic and Financial Affairs at the European Commission
Retour à la liste des auteurs
Biographie
Maarten Verwey has been Director General for Economic and Financial Affairs since 1 February 2020. He started his career as deputy Director General for Economic and Financial Affairs in 2011 until he became Director General of the Structural Reform Support Service (now DG REFORM) in 2015. Before coming to the Commission, he was director of foreign financial relations in the Dutch Ministry of Finance.
Articles associés
Joachim-Nicolas Herrera, Hugo Pascal, Vasile Rotaru, Alex Edmans, Dan W. Puchniak, Rebecca N Henderson, Anna Christie, Saura Masconale, Simone M. Sepe, Anne-Laure Kiechel, Julien Marcilly, Théo Maret, Peter John Oliver, Andrej Leontiev, Radovan Pala, Aija Lejniece, Tsilly Dagan, Kevin E. Davis, Mariana Pargendler, Emmanuelle Barbara, Pavlina R. Tcherneva, Flavia Souza Maximo Pereira, Ginevra Le Moli, Pierre-Henri Conac, Daniel C. Esty, Wolf-Georg Ringe, Judith Rochfeld, Jeffrey D. Sachs, Lisa E. Sachs, Simon Sharpe, Hanoch Dagan, Jean-Philippe Robé, Philippe Aghion, Olivier Blanchard, Hélène Rey, Joseph E. Stiglitz, Jean Tirole, Maarten Verwey, Jacques Attali, Alain Minc
Rethinking Capitalism
lire l'article
Évènements associés
Bruxelles - Weekly Seminar
On September 23rd, the GEG Weekly Seminar will discuss economic measures to answer the post-pandemic economic challenges. The discussion will be based on a paper written by Olivier...
Partners: The College of Europe, The European Institute at Columbia University, The Europe Center at the University of Cambridge, The School of Transnational Governance at the European University Institute
en savoir plus