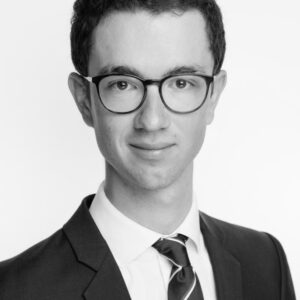 Retour à la liste des auteurs
Biographie
‍
Theo has experience in academic research and public policy, with a focus on sovereign debt and sustainable finance. In parallel to his responsibilities at GSA, he is a research assistant at the Economics Department of Sciences Po Paris, within the Chair on Sovereign Debt. He previously worked as a research assistant on sovereign debt crises at the Paris School of Economics.
As an intern at the French Treasury, he contributed to the development of policies related to sustainable finance, including the European taxonomy. He has published articles on sustainable finance with several French think tanks.
He is currently pursuing a double Master's degree between ENSAE Paris in Applied Mathematics and Economics, and HEC Paris in the MSc International Finance.
Articles associés
Joachim-Nicolas Herrera, Hugo Pascal, Vasile Rotaru, Alex Edmans, Dan W. Puchniak, Rebecca N Henderson, Anna Christie, Saura Masconale, Simone M. Sepe, Anne-Laure Kiechel, Julien Marcilly, Théo Maret, Peter John Oliver, Andrej Leontiev, Radovan Pala, Aija Lejniece, Tsilly Dagan, Kevin E. Davis, Mariana Pargendler, Emmanuelle Barbara, Pavlina R. Tcherneva, Flavia Souza Maximo Pereira, Ginevra Le Moli, Pierre-Henri Conac, Daniel C. Esty, Wolf-Georg Ringe, Judith Rochfeld, Jeffrey D. Sachs, Lisa E. Sachs, Simon Sharpe, Hanoch Dagan, Jean-Philippe Robé, Philippe Aghion, Olivier Blanchard, Hélène Rey, Joseph E. Stiglitz, Jean Tirole, Maarten Verwey, Jacques Attali, Alain Minc
Rethinking Capitalism
lire l'article